Coding: Not just for nerds
Share - WeChat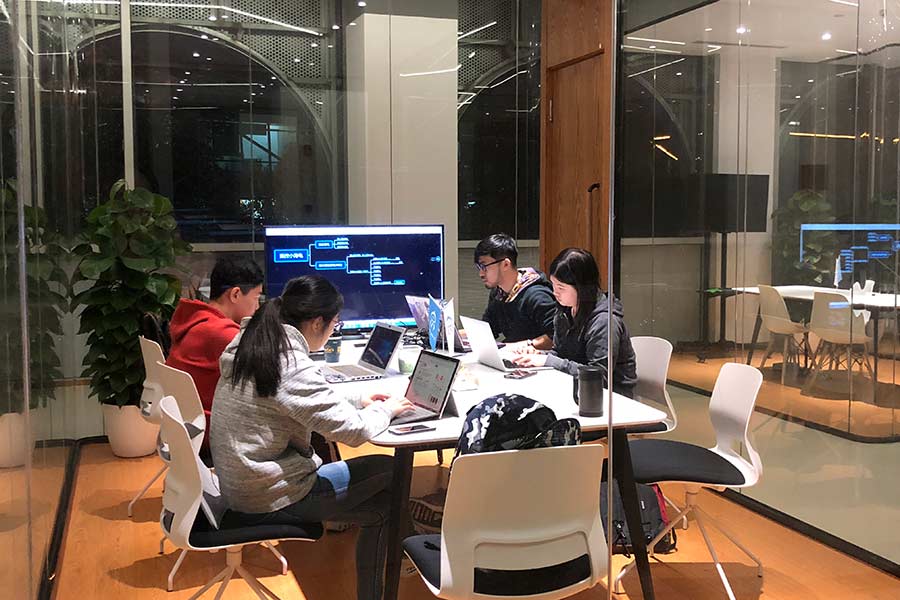 Dong Zhengyang's first encounter with coding was in his ninth grade. He started taking free online courses after his teacher said that the skill would be highly sought after in various fields in the future.
The 18-year-old credits coding for helping him become more analytical and think more critically. He became so good at writing codes that he even published papers on Scientific Citation Index which later helped him to win admission offers from Stanford University and Columbia University.
Dong is among the many youths in China today who are jumping on the coding bandwagon. Angel Zhou, a 7-year-old girl from Wellington College International Shanghai, is another.
Zhou has for the past few months been learning the skill at a children's coding institution. In this course, the children are taught how to use code to create simple animations and music. Each session lasts for two hours and costs about 700 yuan ($104). Zhou attends one session every week.
"Learning coding has made me more rational than before. I find that I can solve problems with greater ease now. Even though it takes me several hours to complete my coding homework, I find the work more fun than other extracurricular activities," Zhou said. "I will continue to learn coding till the day I can develop some of my own games."
Zhou's mother Li Meihao said that she knows of many other parents who have similarly sent their kids to coding schools.
"I hope this course can help her to develop a stronger critical thinking ability. Most importantly, it is to help her explore things she might be interested in," Li said.
Compared with other countries, however, Chinese children can be considered to be behind the curve when it comes to learning about coding.
In 2015, the United States government announced that it would provide each state with $4 billion to promote computer science in kindergartens, elementary, middle and high schools. That same year, computer science was made a compulsory subject for students from kindergartens to high schools in the United Kingdom. According to iResearch, a Shanghai-based research consultancy, 15 European Union countries have added coding to their educational system, with 12 of them introducing coding in high school and nine in elementary school.
China only started promoting coding education in 2016 when the Ministry of Education launched the 13th Five-Year Plan of Education Informatization. In 2017, the general office of the State Council released a development plan for artificial intelligence, which paved the way for related courses to be introduced in elementary and middle schools across the country.
"Unlike coding that adults learn, coding for children is about improving computational thinking and innovative ability to solve difficult problems," said Liu Fengfei, the chief designer of online courses by XiaoMa.Wang, an educational technology company that focuses on coding education for students aged 6 to 18.
"In the process of making a small animation, students can understand the concepts in problem solving by splitting characters, dragging modules and controlling the progress."
The growing popularity of coding for children is evidenced by XiaoMa. Wang's growth. Established in 2016 in Hangzhou, Zhejiang province, the company now has more than 50 branches across 20 Chinese cities. According to iResearch, the size of China's coding education sector for children is presently between 3 and 4 billion yuan, and is expected to grow to 30 billion yuan within five years.
Established in 2016 by three co-founders who had studied abroad, Coding March is currently one of the most popular schools in the market. It operates four branches in Shanghai and an online platform.
"When I studied finance in the UK, I found that my classmates were all proficient in coding and were able to use it to solve most financial problems," said Wang Ruihan, 26, one of the co-founders.
"Many Chinese students who applied for universities in foreign countries were at a disadvantage because they were not familiar with STEM (science, technology, engineering, and mathematics) subjects. Therefore, we established Coding March to provide the local students a better coding background," he added.
According to Wang, there are several key factors behind the booming market: parents now recognize the importance of computers in daily life, a deeper understanding of how computer science works, and the continuous promotion of STEM education in China since 2016.
The burgeoning K12 online education market, which is catered to children from kindergarten to 12th grade, has also created a conducive environment for coding courses to thrive. According to Wang, the K12 online education market is expected to hit 150 billion yuan in 2022, up from 6.37 billion yuan in 2012.
At Coding March, children start by learning about software such as Scratch, Arduino, Python, Java and C++. Those who have completed the basics can then choose to enroll in the advanced course that teaches them how to create web pages, develop apps and do coding related to artificial intelligence.
It generally takes a student seven months to complete one stage of a course and about two years to achieve full completion. Most of its students are aged from 6 to 15. Course fees range from 300 to 700 yuan per hour.
While Liu and Wang point out that the coding market is getting more attention these days, they admit that much still needs to be done to address problems regarding the lack of qualified coding teachers, unified standards for coding education and regulations pertaining to the sector.
"In the future, coding will become similar to English or driving, both of which are necessary to everyone," said Wang.