Riding the green wave
Share - WeChat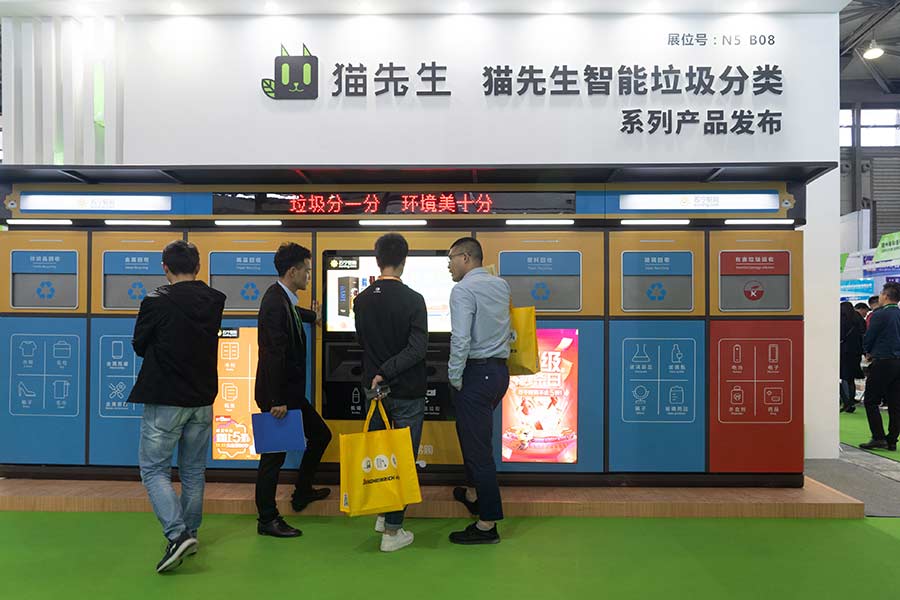 The government, companies and communities have been doing their part to make Shanghai a greener place, but experts say more can be done to ensure this long quest for sustainability can be successful.
In light of Shanghai's new regulations on waste management, which will go into effect on July 1, innovations related to recycling and garbage sorting took center stage at the recent IE Expo China held between April 15 and 17 in the city.
One of these innovations was a smart machine by Hangzhou Beiyi IOT Technology that rewards its users with products or coupons through an app after they deposit their trash into the appropriate compartments.
More than 170 of these machines are already operating in Chinese cities such as Chengdu in Sichuan province, Ningbo in Zhejiang province and Fuzhou in Fujian province.
According to Zheng Funing, a representative from Hangzhou Beiyi IOT Technology who attended the expo, these machines can presently be found at five of Alibaba's Hema Fresh Market outlets in Shanghai. He added that all Hema Fresh Market outlets in the city would have a machine by the end of this year.
"Every sector in the city has been pooling wisdom to create an efficient waste separation and recycling system because of the impending regulations. This means that the market will become even more promising in the future," said Zheng.
Baiwo Xinglian, a Shanghai-based environmental protection company, also showcased its devices that break down wet waste into carbon dioxide, water and other substances through interactions with microorganisms. The residual substances will then be discharged if they meet the required emission standards.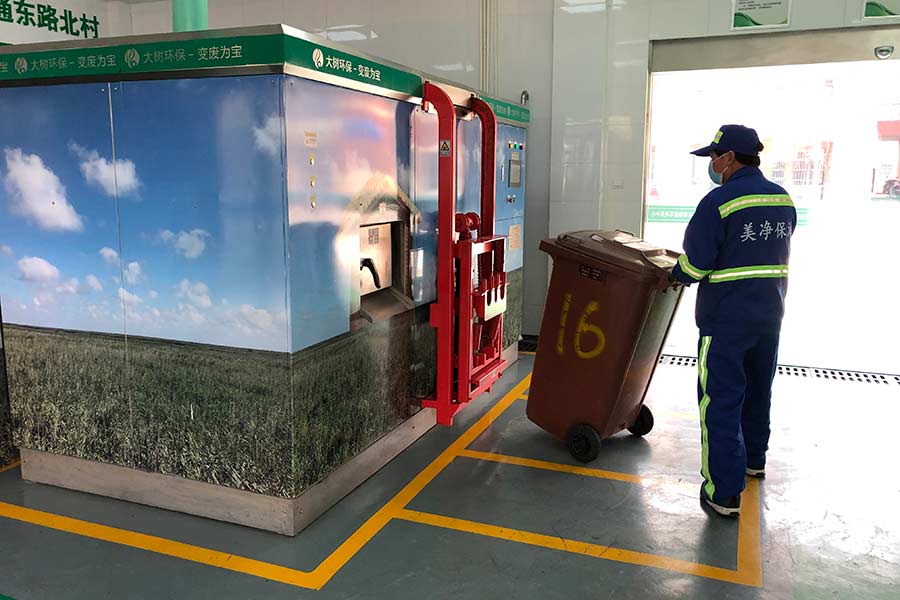 According to Li Xin, chief financial officer of the company, one machine can deal with about five tons of wet waste every day.
"Compared with waste compost, the technique reduces 77 kg of carbon dioxide per ton of wet waste. It also eliminates foul smells and environmental contamination," said Li.
Polypropylene recycling boxes made of old paper express boxes, manufactured by another Shanghai-based technology company, was another highlight at the expo.
Chai Aina, president of the company, said that regular paper cartons can only be used twice before they have to be discarded. The company's recycled boxes, on the other hand, can be used on average 14 times, meaning greater cost savings for users.
"We rent new boxes to companies and pay them to recycle the old ones. This generates mutual benefits for both parties," said Chai.
As of last year, more than 2 million of these boxes have been used in the country. The number is expected to soar to 100 million this year.