Xi highlights global scope of green efforts
Share - WeChat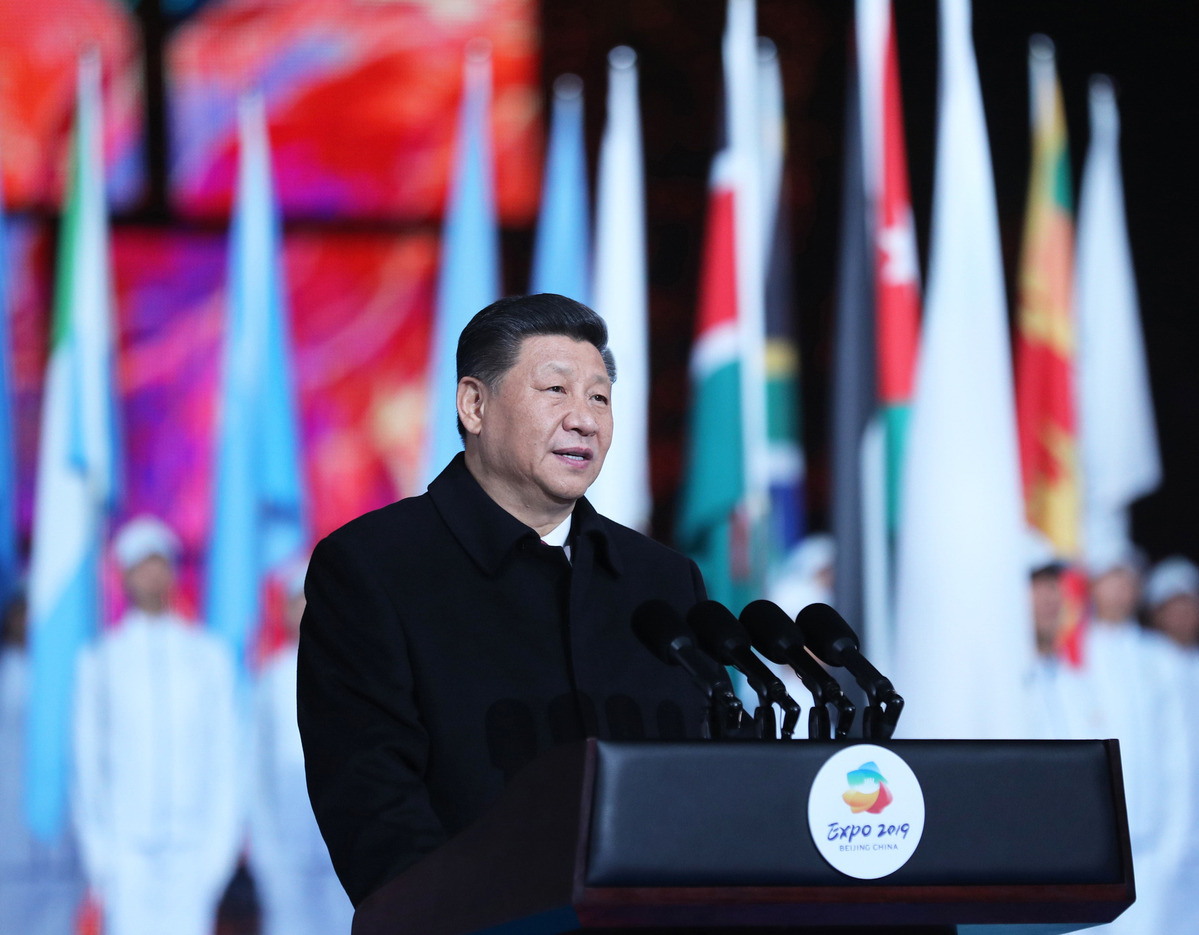 Protecting the environment now will benefit many generations, he says at horticulture expo
President Xi Jinping again stressed the importance of protecting the environment as he opened one of China's largest-ever exhibitions.
His remarks at the opening ceremony of the International Horticultural Exhibition 2019 in Beijing's Yanqing district on Sunday came just a day after the conclusion of the Second Belt and Road Forum for International Cooperation, where he also stressed the importance of green development, particularly in relation to infrastructure construction.
"Every generation has its own mission. Our efforts to conserve the ecosystem will benefit not only this generation, but many more to come," Xi said.
Protecting the environment is one of the essential tenets of China's new era, which Xi launched at the 19th National Congress of the Communist Party of China in October 2017. He set the target of achieving a "Beautiful China" by 2035.
"I have always said that green mountains and clear waters are indeed mountains of gold and silver, and that environmental improvement means greater productivity," he told those attending the opening.
"We must protect this planet like our own eyes, and cherish nature the way we cherish life."
Xi also stressed the importance of China being an effective global citizen and playing its part in reaching international targets.
"Only with concerted efforts can we effectively deal with global environmental issues such as climate change, marine pollution and biological protection and achieve the United Nations 2030 Agenda for Sustainable Development goals," he said.
The expo, which is being held next to the Great Wall, is the largest exhibition in China since the first China International Import Expo in November.
It consists of a huge display of flowers and plants with numerous pavilions, and is expected to attract 16 million visitors from China and overseas over its 162-day duration.
Harvey Dzodin, senior fellow of the Center for China and Globalization, a Beijing-based independent think tank, said Xi is right to take a global leadership position on the environment.
"If the world fails to act, some cities... will be partially submerged due to global warming in addition to suffering other apocalyptic and irreversible consequences," he said.
He added that the scope of China's influence on green issues will be greatly expanded by the Belt and Road Initiative.
Because of the BRI, he said, "this effort (tackling green issues) will affect not only China, but will extend to all four corners of the globe".
Bas Pulles, minister and deputy head of mission at the Netherlands embassy in Beijing, also believed Xi was sending an important message. "His speech highlighted that green development in China was important for green development throughout the world," he said.
Julio Meneses, director of the China-Guatemala Chamber of Cooperation and Trade, was impressed that Xi saw the big picture when it came to the environment.
"I like his idea of planting green forestry so as to leave a legacy for future generations," he said.
Bernard Oosterom, president of the Zurich, Switzerland-based International Association of Horticultural Producers, which is responsible for accrediting the expo, said during the opening ceremony that the expo had brought together more countries than any previous ones in his organization's history.
"China has led the way in promoting green development. It is clear that the Chinese government supports ecologically sensitive development in order to create a 'Beautiful China'," he said.
Richard Deverell, director of London's Royal Botanic Gardens, Kew, said, "Hosting the expo on such a huge and impressive scale will give a message to millions of people not just in China but all round the world that China is looking after nature and valuing its land."
Juan Manuel de Jesus Flores Cornejo, a congressman in El Salvador, said the expo was a great opportunity for his country to showcase its coffee industry.
"We want to use this exhibition to display more of our countries' culture and how our people make a living to visitors worldwide," he said.
Wang Linyan, An Baijie, Xin Wen, Zhang Shaowei and Huang Tiantian also contributed to this story.
andrewmoody@chinadaily.com.cn