Wuzhen: A classic southern Yangtze water town
Share - WeChat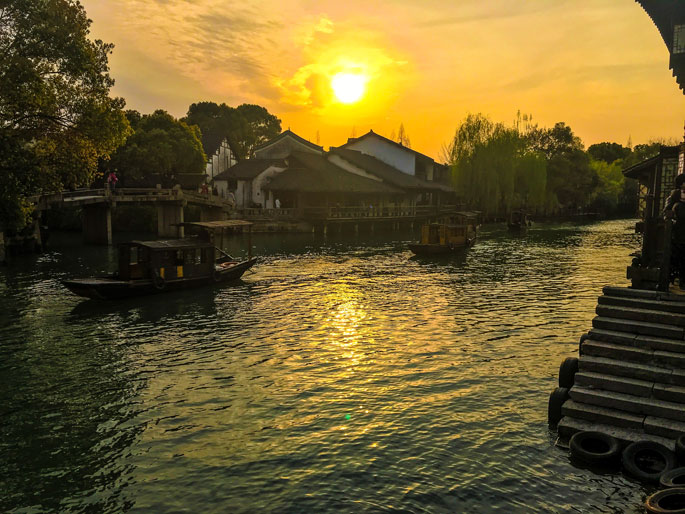 I first came upon China's water towns in 1996, while visiting the area around Suzhou. A mesmerizing scene lay before me as I sat, camera in hand, gazing at rows of whitewashed buildings rising above canals. Arched bridges straddled waterways as wooden cargo and passenger boats slid underneath them in line. I started picturing it as a painting -- a watercolor, a sketch or a traditional Chinese ink drawing. Thoughts engrossed me of the serenity, the tranquility and history of both the area and beyond.
For centuries a close relationship existed among man, land and water. Town life, commerce, agriculture and transport all became interconnected through water. I was gazing upon an ancient system stretching from the large Taihu Lake south toward Shanghai. This landscape was bisected by the mightiest of all, the Grand Canal, a 1,794-kilometer waterway connecting Hangzhou, the capital of today's Zhejiang province, and Beijing. This example of early Chinese engineering, indeed one of the great man-made wonders of the country, dated from the Sui Dynasty (581-618), and has thrived to this day. I watched it, transfixed, as a seemingly endless procession of barges moved steadily along its course.
This area, the southern reaches of the Yangtze River known as Jiangnan, is a land of rice, fish and silk along with bountiful harvests of fresh vegetables. However, the terrain, flat and composed of rich alluvium, sits literally a few meters above sea level. With so many channels subdividing the region, it would have been a daunting and very expensive task to build roads linking the many communities scattered across the area. Water transport proved the ideal solution, particularly in those early days.
Today, of course, advanced engineering and technology has allowed the creation of a transportation network comprising excellent highways and high-speed rail links that provide convenient access to large centers such as Shanghai. However the main canals still carry regular barge traffic, heavy with bulk cargo. It reminded me a bit of a combination between Venice and Holland.
Recently I had the opportunity to visit scenic Wuzhen, part of the county-level Tongxiang city in Zhejiang. This classic example of a water town has also become internationally renowned since 2014 as the permanent base for the World Internet Conference.
Most Viewed in 24 Hours
China Views