Rice project benefits nations in Asia, Africa
Share - WeChat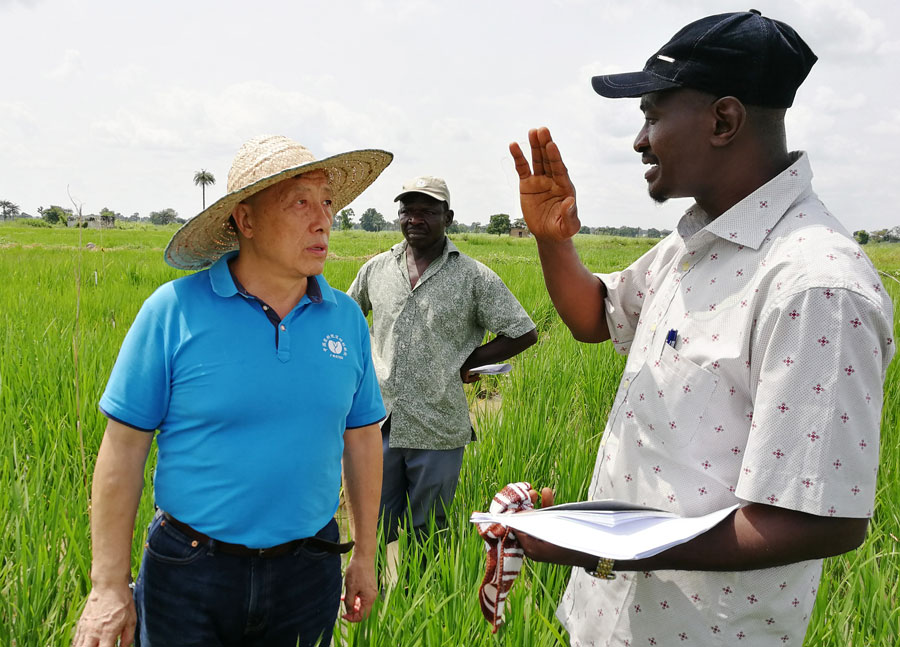 Chinese scientist says resilient varieties boost harvests, minimize use of fertilizers
A decadelong agricultural project spearheaded by Chinese scientists has helped alleviate poverty for more than 1.6 million farming households in 18 Asian and African countries through cultivation of high-yield and resilient rice strains.
The Green Super Rice project, led by the Chinese Academy of Agricultural Sciences, has generated 78 rice varieties that boast an average 20 percent increase in harvest per hectare while minimizing the use of fertilizers, pesticides and irrigation, said Li Zhikang, a professor and researcher of rice breeding at the academy and a leading member of the project, on Tuesday.
The total area planted with the varieties in participating countries had expanded to 6.12 million hectares by the end of last year, including around 3.4 million hectares in the Philippines, 1.3 million hectares in India and 1.1 million hectares in Vietnam, he said.
"Instead of solely emphasizing high yields, the Green Super Rice project is geared to guarantee stable yields while beefing up crops' resistance against drought, flooding and diseases," Li said.
"Thus, farmers are able to save a large amount of resources, such as fertilizers or irrigation water, to fight those issues," he added.
The sustainability of the approach is welcomed by Philippine agricultural researchers and farmers, according to Jose Yorobe, a consultant with the International Rice Research Institute in the Philippines. He attended a meeting in Beijing on Tuesday, along with dozens of representatives from participant countries, that marked the project's conclusion.
"Because of climate change and population growth, developing countries are now pressured to increase rice productivity," he said. "Some high-yield modern varieties are still vulnerable to inclement weather, pests and disease."
Yorobe said on-site studies have shown that the varieties introduced to the Philippines through the Green Super Rice project are capable of thriving in harsh environments and maintaining steady yields.
"After Typhoon Haiyan swept through Leyte Island in the central Philippines in November 2013, we found that the Green Super Rice variety was one of the few that was still growing when submerged in saline water," he said. "Local farmers were elated and regained hope."
In West Africa, six Green Super Rice varieties with high-yield potential and strong tolerance to drought, salinity and iron toxicity have been developed, and about 14.5 metric tons of such seeds were distributed to local rice breeders, according to Baboucarr Manneh, a researcher with the African Rice Center in Cote d'Ivoire.
"Moreover, about 500 scientists, technicians and farmers have been trained in fields such as breeding, seed production and crop management through the project. The training helps increase their capability and achieve sustainable growth in the future," he said.
According to Li, the project drew to a close recently as sponsorship from the Bill & Melinda Gates Foundation ended as scheduled. "However, more green super rice species are expected to be rolled out, thanks to funds from the bilateral collaborations under the framework of the Belt and Road Initiative and South-South Cooperation."
Gary Atlin, a senior program officer for the Gates Foundation, said the project demonstrates a new collaboration model in which rice scientists from different countries can work together to understand local needs and develop solutions on a global basis.
"Expertise of Chinese scientists in rice breeding and cultivation is a tremendous resource for the developing world," he said. "I believe it will continue to have an impact for years to come."