President cites US ties in gathering with ex-leaders
Share - WeChat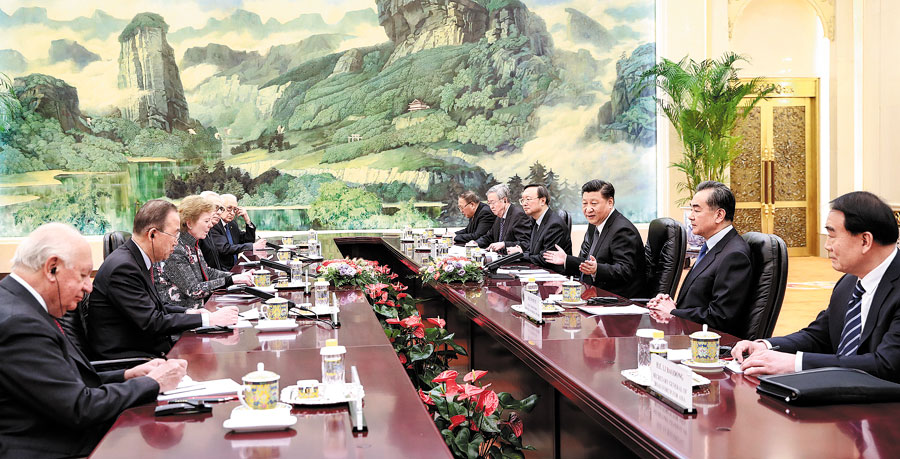 China would like to walk in the same direction as the United States, handle their disputes and expand cooperation, President Xi Jinping said on Monday.
Xi made the remark while meeting with a delegation of global leaders called The Elders at the Great Hall of the People in Beijing. The independent group was founded in 2007 by Nelson Mandela, former president of South Africa.
Xi told the group that Sino-US ties are among the world's most important bilateral relationships. China would like to develop its relations with the US on the basis of coordination, cooperation and stability to provide more certainty and predictability for the world, he added.
The relationship between major countries affects the strategic stability of the world, and major countries shoulder special responsibilities, Xi said.
China is dedicated to promoting coordination and cooperation between major countries, Xi said, adding that China expects to maintain friendly relations with major countries, avoid conflicts and confrontation, respect each other and cooperate for win-win results.
Xi said the impact of unilateralism has worried many countries, but support for multilateralism remains the mainstream of the international community.
China continues to support the multilateral processes including maintaining the Treaty on the Non-Proliferation of Nuclear Weapons and enhancing the cooperation on climate change, Xi said.
The Belt and Road Initiative put forward by China is an important contribution to multilateralism and global cooperation, Xi said, adding that China has worked with other countries to innovate in cooperation in the past five years.
As a developing major country, China pursues win-win cooperation and helps all developing nations achieve common development, Xi said, adding that the BRI aims for mutual benefits.
Most of the members of The Elders are leaders of international organizations and former political leaders including Ban Ki-moon, former secretary-general of the United Nations, and Ernesto Zedillo, former president of Mexico. Its chairwoman is Mary Robinson, former president of Ireland.
Members spoke highly of China's achievements in environmental protection, poverty reduction and ethnic relations and development.
China has played a constructive role as a responsible major country at a time when multilateralism is facing challenges, and Xi's speeches at international events have sent positive signals, they said.
Noting that this year marks the 70th anniversary of the founding of the People's Republic of China, Robinson said that China has made great progress in the recent decades, and she has seen great changes in China.
"We hope to really have a continuing dialogue with China on issues because they are quite urgent now," she said, adding that multilateralism is "going through a difficult time".