Guiding the way it should be done
Share - WeChat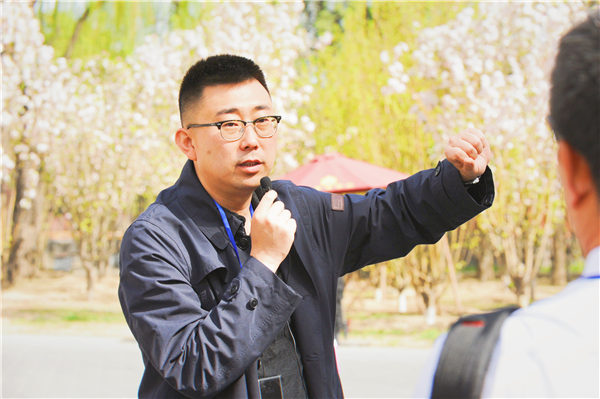 His morning starts when he rises at 6:30 am and heads to the palace at 8:30 am. His first tour starts half-an-hour later and takes three to four hours.
He often has to take afternoon shifts, as well, because a growing number of people require his service.
Fang also owes the takeoff of his career to the nation's focus on traditional culture.
"The Ministry of Culture and Tourism and the Palace Museum have created many tourism hot spots that I can take advantage of," he says.
The palace has been the talk of the internet, with its continuously renewed offerings, such as imperial-style hotpot, lipsticks and night tours, all of which have produced a lot of buzz across the country.
In addition, Fang has attended numerous training sessions, which have been regularly held by tourism authorities in Beijing to improve the overall quality of such tours.
No matter how late Fang gets back home, he insists on reading the histories of different dynasties for at least two hours before going to bed.
"It's already a habit of mine, even if it's 2 am, I will read," Fang says, adding that it's necessary for him to keep updating his knowledge about the palace, so he can better serve his customers.
The palace has more than 1.8 million antiques, each of which has a story behind it, so a tour guide has to keep learning in order to give quality explanations to the tourists, Fang adds.
"You need to prepare a bucket of water to give your guests the cup of water that they want," Fang says.
The accumulation of knowledge over time has allowed Fang to improvise at work.
He would often add new things that he has read to his routine explanations at the Palace Museum and adjust the content of his speech based on tourists' reactions.
"If I get more attention or response when explaining ancient Chinese architecture, I'll talk more about it than I've planned," Fang says.
A tailored service is also available for visitors who want to dig into specific parts of the palace.
Fang's success has also attracted the attention of China's biggest online travel agency, Ctrip, which has opened a platform for local residents to introduce their hometowns to tourists from outside.
Fang's service was launched on Ctrip's platform in March last year, and the orders have flown in ever since.
Approximately 300 tour guides in Beijing have registered on Ctrip's platform, and the most popular service has been about the Palace Museum, the travel agency reports.
The number of orders for private Palace Museum tour services has quadrupled this year, when compared with the same period last year, with the bulk of them hailing from Shanghai, Beijing, Guangdong province's Guangzhou and Shenzhen, and Zhejiang province's Hangzhou.
The popular and unique products of the Palace Museum have spurred visitors on to dig into more of what's behind the palace, says Song Zhen, an official in charge of Ctrip's local guide platform.
"With rich knowledge, vivid storytelling and professional narration, good tour guides offer a better Palace Museum experience for tourists," Song says.
To date, one out of every five tourists using Ctrip has opted for Fang.
Ctrip's online reviews show tourists are mostly charmed by Fang's Beijing accent, profound knowledge and how he turns history and culture into easy stories to understand.
Some of them have even followed Fang around the palace multiple times.
"I'm really thrilled that many could develop a deeper feeling and understanding of the palace after my tours," Fang says.
Speaking about his future plans, Fang says he wants to work with more media, so he can share Chinese history and culture with an even wider audience.
"Hopefully, I can become a scholarly guide," Fang says.
"We need to talk about history in a vivid way, yet set the record straight when it comes to hearsay and anecdotes."
Most Popular