Supporting the move to high-quality growth
Share - WeChat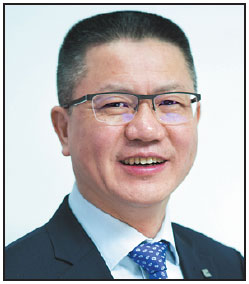 Wang Fucai, president of Clariant China
A1 The Chinese government has been firmly committed to its reform and opening-up policy for over 40 years, benefiting not only Chinese people, but also the rest of the world. With tremendous economic accomplishments such as GDP growth of 225 times over the past 40 years, no wonder it's often said that China is the engine driving the global economy. Clariant established its presence on the Chinese mainland in 1995 and it has been a consistent growth contributor to the group ever since, with sales revenue from China increasing by 51 percent from 2012 to 2018.
A2 China is a decisive market for Clariant. Our vision in China is to become a true China insider with our clear and focused China strategy - Fringe to Core - to bring China into the center of our global development. It is forward-looking for China to shift to high-quality growth. Within this development, technologies that deliver higher value will be given priority. By leveraging our global resources, we are dedicated to bringing innovative and sustainable solutions to the China market, for people in China.
A3 For Clariant, China is a market of utmost importance. We have great confidence in the authorities and have developed a dedicated strategy in the region with continuous investments. This foreign investment law gives even more confidence to investors and foreign companies like Clariant that already have footholds or those that are planning to invest in this promising region. It also embodies the Chinese government's resolution and commitment for promoting the next round of deepened reform and policies that will no doubt help protect foreign companies' legitimate interests and further improve the fairness and transparency of the whole China market.
A4 China is experiencing a consumption upgrade and the local chemical market is also demanding tailored innovations with customized, green and sustainable features. Clariant's flagship label for sustainable excellent products and solutions - EcoTain - comes on the scene as a good solution. Clariant is establishing the One Clariant Campus, a new integrated facility being built in Shanghai with enhanced ability to connect R&D with the commercialization of new sustainable solutions to respond quickly to emerging global and local trends.
A5 Premier Li Keqiang's 2019 Government Work Report stated that the removal of barriers and the embrace of convenience are keys to liberate productivity and improve competitiveness, and China has been dedicated to creating a better business environment for several decades. It will certainly bring additional confidence and efficiency to multinational corporations like Clariant, which is looking for continuous investment and is dedicated to growing together with the country.