Foreign investment law will boost protection
Share - WeChat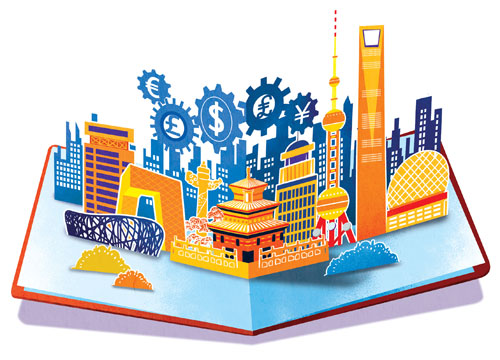 Unified legislation will deepen trust among investors from overseas. Zhong Nan and Jing Shuiyu report.
On Friday, the National People's Congress, the country's top legislative body, will vote on the adoption of the draft foreign investment law.
However, foreign business leaders, along with Chinese political advisers and legislators are already convinced that the new legislation will fundamentally improve the country's foreign investment management system and provide more effective legal protection for a comprehensive opening-up policy.
Once adopted, the unified law will replace three existing laws on Chinese-foreign equity joint ventures, wholly foreign-owned enterprises and Chinese-foreign contractual joint ventures. The laws were mostly introduced between 1979 and 1988 and then revised.
The move to unify the three laws-under which foreign companies register in China-into a single piece of legislation while also highlighting many of the challenges faced by foreign businesses in the domestic market is being viewed positively in light of the reality facing companies from overseas, according to Gu Chunyuan, president for Asia, the Middle East and Africa at ABB Group, the Swiss industrial conglomerate.
Meanwhile, Rachel Duan, senior vice-president of the industrial giant General Electric of the United States, said, "We are pleased that the draft law clearly stipulates that foreign enterprises will receive 'pre-establishment national treatment', in addition to a 'negative list system for market access'".
Duan said the draft pledges that foreign-invested companies will enjoy the same rights as domestic outfits to participate in drafting standards and bidding for government procurement projects.
Xiao Shengfang, president of the Guangdong Lawyers Association and an NPC deputy, said the negative list-which restricts foreign investment in certain industries-will clarify the areas in which FDI is prohibited and restricted, and provide foreign investors with solid guarantees of their legitimate rights and interests.
According to the details of the text, the draft law offers a clear response to common concerns among foreign investors and clarifies protection provisions for issues such as expropriation and compensation, protection of intellectual property rights and the forced transfer of technology.
Foreign investors' capital contribution and profits and capital gains made in China will be freely transferable overseas, either in yuan or another currency, according to the draft law.
On Jan 30, the NPC Standing Committee decided to submit the draft law to the ongoing session of the NPC, which opened in Beijing on Tuesday.