Principal's priority is rural education
Share - WeChat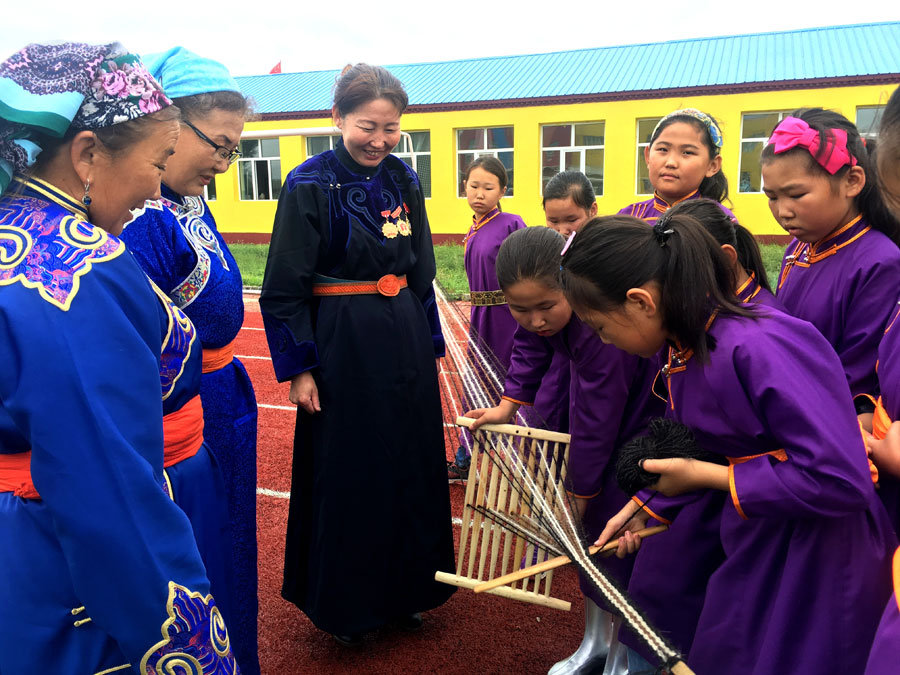 After teaching for 30 years at different villages in the Inner Mongolia autonomous region, Mei Hua, a deputy to the 13th National People's Congress, hopes she can help more ethnic minority students enjoy better education.
Mei's parents are both herdsmen in the Hulunbuir grasslands, and she knew from an early age that education is one of the most effective ways to change the fate of children living in the grasslands and give them the opportunity to see the outside world.
She became a teacher when she was 19, and has since worked at different schools in remote villages.
In 2009, she was assigned to be the principal of Yimin Primary School in the Ewenki autonomous banner in Hulunbuir amid a shortage of teachers due to poor conditions.
"When I arrived at the school, I almost started to cry," she said. "There were only eight students with one outdated computer that could barely function.
"The teachers lived together in a small rented room, and the heating in their dormitory and the classroom came from coal boilers.
"However, I cannot fail the trust of others and had to do something to make things better."
Mei started to improve facilities at the school by changing the heating system to gas heating, getting internet access, buying necessary equipment, renovating the school buildings and hiring more teachers.
With conditions at the school having improved significantly, the number of students has gradually increased.
The school now has more than 120 students, and with increased government investment it also has an affiliated kindergarten, newly built playground and special classrooms for singing and drawing.
However, like many other schools in rural areas, the quality of teachers at Mei's school still lags behind that in urban areas.
"There are few young teachers at our school, and many teachers have not been trained properly and they do not teach the subject they have majored in," she said.
Mei hopes that more young people and college graduates will come to her school to teach.
According to the Ministry of Education, the country now has 2.9 million rural teachers, 1.7 million of them under the age of 40.
In the past 13 years, 335,000 college graduates have been hired to work at rural schools in central and western China.
From 2013 to 2018, central and local governments invested 542.6 billion yuan ($81 billion) to build and renovate school buildings and buy teaching resources.
To bridge the gap between urban and rural education resources, different levels of government purchased 5.1 million computers.
The ministry also said that more than 90 percent of primary and secondary schools in China now have access to the internet.
As an NPC deputy, Mei visited nearby schools and talked with local teachers, principals and education officials on ways to improve rural education.
"The most sustainable way to keep rural students out of poverty is to give them a good education, and I am willing to offer my help," she said.