Experts want to rein in milk formula ads
Share - WeChat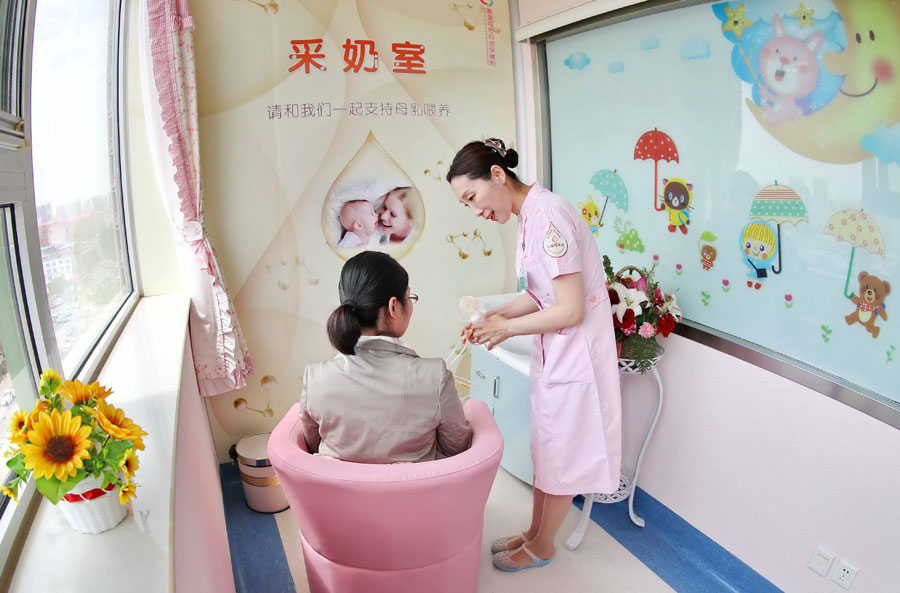 Mothers encouraged to breast-feed infants for first six months of life
Experts have called for legislation to regulate the marketing of breast milk substitutes, a move aimed at improving the breastfeeding rate in China.
The appeal was prompted by a new report saying that less than 30 percent of Chinese newborns are exclusively breast-fed for the first six months, compared with 43 percent of mothers worldwide who are breast-feeding exclusively, and 37 percent for lower-to middle-income countries.
The report was released recently by the China Development Research Foundation, which surveyed more than 10,000 mothers with babies less than a year old from August 2017 to January 2018.
By six months of age, 33.5 percent of babies received breast milk with added baby formula, and 31 percent were fed with breast milk predominantly while taking additional water and juice, according to the survey.
Multiple factors are blamed for the stagnant rate of exclusive breast-feeding, including negative or skewed perceptions of breast milk, lack of support from families and public institutions, and poor implementation of maternity leave.
However, Fang Jin, deputy secretary-general of the foundation, said there is a significant inverse relationship between misleading advertising of breast milk substitutes and higher breast-feeding levels.
It is estimated that infant formula advertisements targeting new mothers and other family members increase the likelihood such products will be used by 30.8 percent, and thus drive down the country's exclusive breast-feeding rate by 11.2 percent, according to the report.
"With one-fifth of the world's total population, and a shrinking newborn population in recent years, China accounts for one-third of global baby formula consumption," Fang said.
He called for regulations to keep a tight rein on the formula industry and protect consumers from exaggerated claims of formula benefits.
China launched a regulation in 1995 to oversee marketing activities by infant formula companies. The rules were scrapped in late 2017 following institutional reshuffles, Fang said.
"Even if the old regulation were in place, it is not legally binding," he said.
"We are calling for a specific law to govern the marketing of breast milk substitutes."
The Advertisement Law, which bans comparing the health benefits of formula with breast milk, is not enforced strictly, according to Fang.
Based on survey results, it is almost impossible to reach the target of raising the exclusive breastfeeding rate to 50 percent by 2020 if tougher regulation and enforcement are not in place, he said.
The World Health Organization recommends feeding babies with only breast milk for six months, without any infant formula or supplements. The approach is believed to help reduce the incidence of illness and improve overall physical and mental development.
The report also calls on medical institutions, especially neonatal professionals, to educate mothers on breast-feeding methods and its advantages, and encourages the setting up of more breast-feeding facilities at workplaces and public spaces. Legislation for maternity leave should also be improved, it said.
Li Lin, a resident of Shanghai, gave birth to her first child in December and began feeding her daughter infant formula recently.
"I felt that using formula is nearly as nutritional as breast milk," she said.
"My relatives and friends had already sent me tins of baby formula as gifts even before I stopped exclusively breast-feeding."
Li added that it was physically demanding to stick to a 100 percent breast-feeding method after her maternity leave ended and she resumed work as an accountant.
Another report, commissioned by the China Consumers Association and published on March 6, also shone a light on the mounting pressure on mothers who have to juggle work and breast-feeding.
The report, which compares the latest poll results with those from about a decade ago, identifies short maternity leave, busy work schedules and insufficient breast milk as the main culprits for the phenomenon of an increasing number of women switching to a combination of breast milk and infant formula to feed their babies.
In most cases, pregnant women in China are entitled to four months of maternity leave, making it difficult to stick to exclusive breast-feeding for six months, as the WHO recommends.
Based on the findings, the association has called on local governments and institutions to test flexible working schedules for employees who breast-feed, as part of efforts to upgrade the country's maternity leave.