Qingdao high-speed rail innovation center on track
Share - WeChat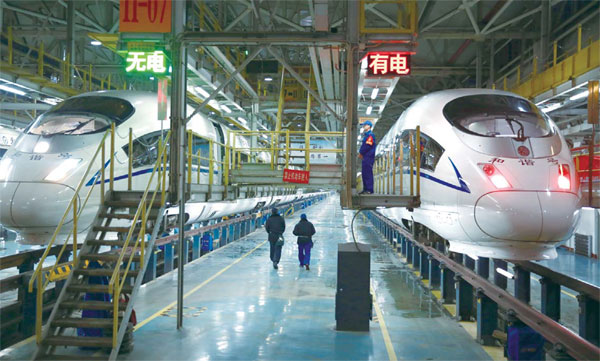 China is accelerating its efforts on developing a national-level innovation center for high-speed trains in Qingdao, East China's Shandong province, aiming to be a global leading innovation force, officials said on Monday.
The establishment of innovation centers on a national level is a top-level decision, and the first one is focusing on rail transportation, as the rapid development of high-speed trains has become a new focus for China's high-end manufacturing sectors, said Zhao Minghua, deputy director of National Innovation Center of High-Speed Rail.
With an estimated investment of 60 billion yuan ($8.94 billion) and taking an area of six square kilometers, the center is expected to be completed in 2030. Construction of the center, by China Railway Rolling Stock Corp or CRRC, the world's largest railway vehicle manufacturer by sales revenue, and Qingdao municipal government, began last February.
"One of its goals is to focus on cutting-edge technologies and explore future visions in the high-speed train industry, helping China take the leading role in the sector," said Zhao, adding that the center will mainly feature high-end R&D, commercialization and city-industry integration.
"The center also encourages international cooperation and involves technology transfer as well as certification work," added Zhao.
According to Ji Zheng, one of the center's construction managers, three major programs are under construction, including two labs for high-speed maglev trains, which are expected to come into use in October.
"Design and research of 600 km/h maglev trains is expected to take place at the center," said Ji.
Ji said that the core part of the center will be functioning in 2021, with 16 programs worth 30 billion yuan, including a key national lab.
Qingdao, home to CRRC Sifang and Bombardier, is now enjoying robust growth in the high-speed train manufacturing sector.
Around 65 percent of China's EMU trains set off on their first trip from Qingdao and 25 percent of the subway trains running across China have been produced there.
Fuxing bullet trains, representing China's latest self-developed new-generation bullet trains, have been developed in Qingdao.
A demonstration zone on rail transportation sectors was established in the city's northern Chengyang district four months ago.
Last year, the output value of the area's rail transportation industry chain reached 85 billion yuan, becoming one of the pillar industries in the city.