Wengfu eyes overseas expansion
Share - WeChat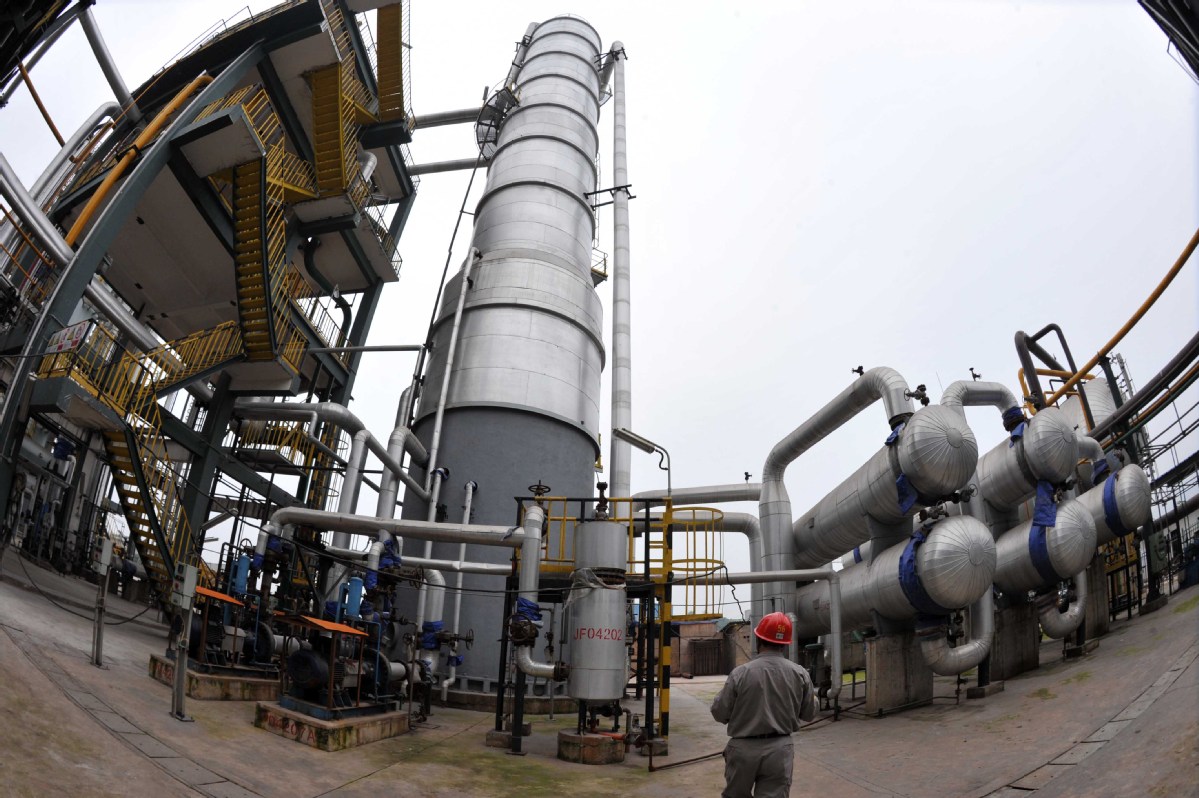 Phosphorus and chemicals maker set to promote its value-added tech
Guizhou province's largest phosphorus and chemicals manufacturer Wengfu (Group) Co Ltd has strengthened innovation to raise efficiency of processing phosphorus resources to reduce pollution and upgrade its product structures while expanding into overseas markets.
He Guangliang, chairman of Wengfu (Group) Co Ltd and a deputy to the 13th National People's Congress, said the company has overcome slow growth in the industry by enhancing innovation and developing high-end products.
The company's net profit increased 127 percent year-on-year in 2018, and is expected to grow at least 30 percent this year, he said.
Low-cost, high-yield phosphorus-mining technology, which helps extract 95 percent of the mineral from phosphate ore, after removing impurities, is an example of how Wengfu has prioritized high-quality development.
Wengfu, which launched operations in 2000, discovered that phosphorus-related emissions were making a nearby river turn milky. It started to research on how to process and deal with its production waste.
"There is a future for companies like us that adopt a sustainable approach to production," He said.
In recent years, the company has achieved steady development of its 7.5 million metric ton phosphorus mine by creating more value from it.
He said that this had been achieved by developing the mine while creating a ladder chain - producing fertilizer, food, electronics and medical products.
For example, the company has developed high-end refined petrochemicals and other products such as iodine and silicon. To best extract the phosphogypsum - phosphorus production waste - Wengfu invited seven domestic companies to meet the emission and waste management targets. Alongside innovation, Wengfu is also eyeing overseas expansion. Exports make up one-third of Wengfu's total business. It exported about 1.5 million tons of products including fertilizer and imported large amounts of sulfur and coke last year.
He said Wengfu's overseas businesses have to focus on its core technology and services to achieve a substantial advantage in the global market.
Wengfu has evolved from exporting raw materials like phosphate fertilizers and processed products like iodine to transferring higher value-added technologies.
The company mainly exports petrochemical products and fertilizer as well as technological knowhow through licensing and management.
"We can build and manage factories. We can also offer license, as long as it is economically attractive," He said.
China has become the largest producer, consumer and exporter of phosphatic fertilizers in the world. "Quality instead of quantity should be our priority in developing the industry," He said.
Wengfu is pressing ahead with more than 30 overseas projects in countries such as Vietnam, Indonesia, India, and Kenya, most of which make use of its technologies related to mining and processing.
The company is now set to continue its overseas expansion into economies involved in the Belt and Road Initiative, which aims to connect Asia with Africa and Europe through an infrastructure and trade grid along the ancient Silk Road.