Hunan KFC branch honors Lei Feng spirit
Share - WeChat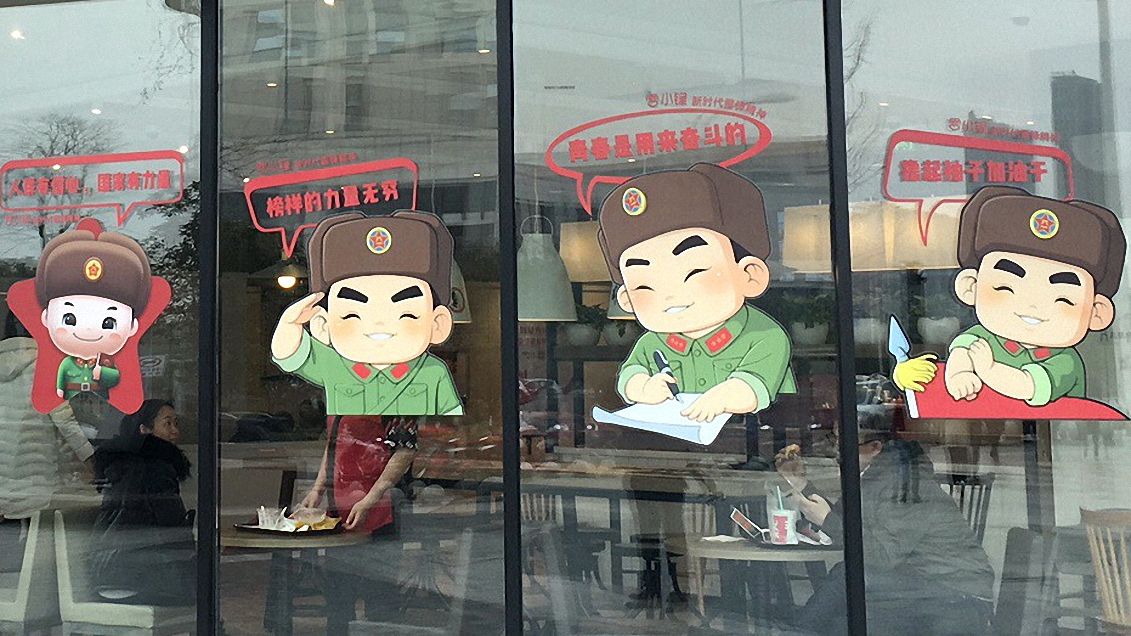 Kentucky Fried Chicken has launched a new themed branch in honor of Lei Feng, a model soldier celebrated in China for his selflessness and modesty, in his hometown of Changsha, Hunan province.
The restaurant opened on Sunday, two days before Lei Feng Day, when people celebrate his spirit by showing goodwill and giving helping hands to others.
Two big Lei-like statues stand at the entrance to the restaurant and the interior is decorated with cartoon portraits of Lei and quotes from his diary, with words from his poems playing as background music.
He Min, general manager of KFC in Hunan province, told People's Daily that in addition to the themed restaurant, it will also launch a project dedicated to Lei's virtues in 250 outlets in Hunan.
The project includes providing free drinking water and resting places for janitors and calling on tens of thousands of staff members to follow Lei's kind deeds.
The restaurant will organize regular events and cooperate with the local Lei Feng Memorial Hall to further promote Lei Feng spirit.
"Lei Feng is the role model for us to learn from, generation after generation. As the KFC in his hometown, we will strongly advocate his spirit and become the successor of that spirit in the new era," He said, adding that KFC will also hold storytelling events for children to learn Lei's stories.
Changsha resident Xu Xinqi said: "It's quite a novelty to incorporate Lei Feng's image into KFC. Coming from the same city as Lei Feng, I feel honored but also obliged to practice his spirit."
Liu Yan, deputy director of the Lei Feng Memorial Hall, told People's Daily that the opening of a Lei Feng-themed restaurant is an inheritance of Lei Feng spirit in the new era.
"Its emergence reinterpreted the spirit in a vivid way and let it enter people's hearts, especially children's," she said.
Lei Feng was born in Changsha in 1940 and died in an accident at the age of 22. Known for devoting his time and money to public service, the hero has inspired generations of Chinese people to voluntarily help those in need.
One year after Lei died, Chairman Mao Zedong called on the entire country in 1963 to learn from his generosity and selfless deeds, and March 5 has since been designated Lei Feng Day.
This Tuesday was the 56th Lei Feng Day and a variety of volunteer events have been going on across the country, such as the volunteer stations set up in many cities offering free services including legal counseling, healthcare and first aid, appliance repair and free haircuts.