Quality of work in spotlight
Share - WeChat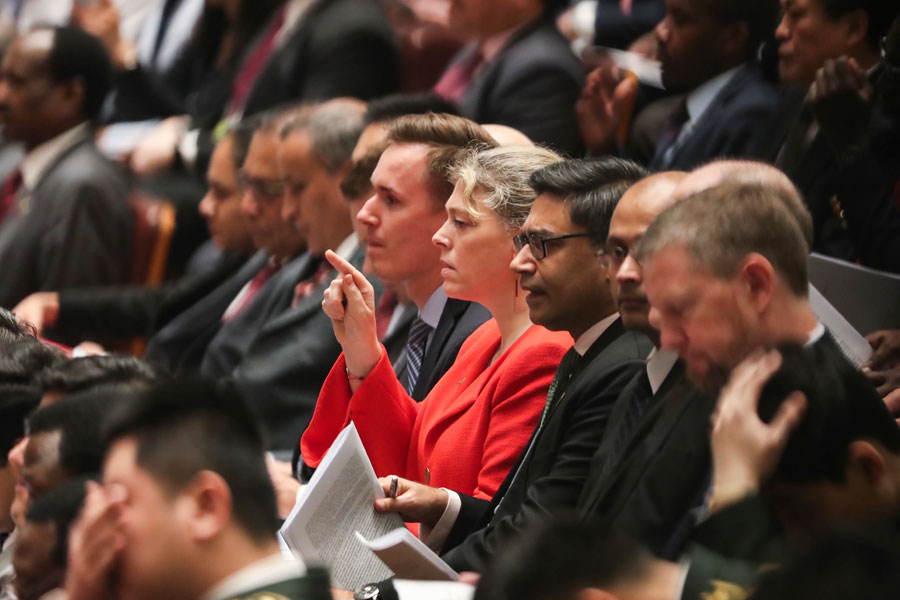 CPPCC National Committee takes steps to evaluate members' efforts
China's national political advisory body and top legislature have taken innovative measures in the past year to improve the quality of their work and encourage political advisers and legislators to better perform their duties.
"Improving work quality is essential for advancing the Party and country's undertakings in the new era. It's also a pressing need for strengthening the work of the Chinese People's Political Consultative Conference," Wang Yang, chairman of the CPPCC National Committee, said on Sunday while delivering a work report to more than 2,000 political advisers.
He said the national political advisory body took a markedly more quality-oriented approach in the past year, and shifted the focus of the CPPCC's work from "what has been done" and "how much has been done" to "what results have been produced".
Guidelines on improving the quality of proposals to the CPPCC were issued, and greater efforts were made to solicit proposals, Wang said.
A new chapter stipulating the duties and management of its members was also added in the amendment to the CPPCC Charter, which was adopted on March 15, 2018.
The chapter stipulates that the CPPCC National Committee and local committees should strengthen management of how their members perform their duties, establish records on members' performance and adopt appropriate means to give feedback to members.
In the past year, the CPPCC National Committee established performance records for each of its around 2,150 members. All 298 members of the Standing Committee of the CPPCC National Committee have submitted performance reports, according to the national political advisory body.
Local committees also established a point-based management mechanism to evaluate members, which is related to their performance in attending meetings and training sessions, soliciting public opinion.
"The evaluation of members' participation in their activities and performance will help improve our enthusiasm, sense of responsibility and ability to better fulfill our duties," said Fang Tao, a political adviser from Shenzhen and also executive vice-president of Shenzhen Charity Federation.
To increase exchanges among members nationwide, CPPCC leaders visited local members during their activities outside Beijing. Members also communicated via a mobile application, launched by the CPPCC in August for its members, in which they can talk in a chat group on a certain topic and get contacts.
Last year, the Standing Committee of the National People's Congress, the country's top legislature, also made greater efforts in connecting with deputies to understand the problems they encounter while fulfilling their duties.
Li Zhanshu, chairman of the NPC Standing Committee, took the lead in keeping in touch with deputies, while each NPC Standing Committee member was required to hear opinions by contacting one to three deputies at the grassroots level, especially workers and farmers.
So far, 145 committee members have made contact with 347 NPC deputies through calls, letters or WeChat, the most popular instant messaging tool in China, according to the NPC.
The top legislature has also offered various kinds of lectures and training to deputies to help them better understand and fulfill their duties during the period in which the congress is not sitting. Such training sessions were organized five times last year, of which three focused on deputies' fulfillment of their duties.
"I've become more confident and professional in performing my duties after attending training from the top legislature," said Cao Yanming, an NPC deputy from Guangdong province. "It was a good chance for me to learn more about the law and political knowledge."
In addition, the legislature encouraged deputies to increase their activity throughout the year. For example, Li Li, an NPC deputy and a judge from Beijing, was asked to learn about the draft foreign investment law during the recent Spring Festival and to solicit opinions from her colleagues.