Plan eyes legacy for Winter Olympics
Share - WeChat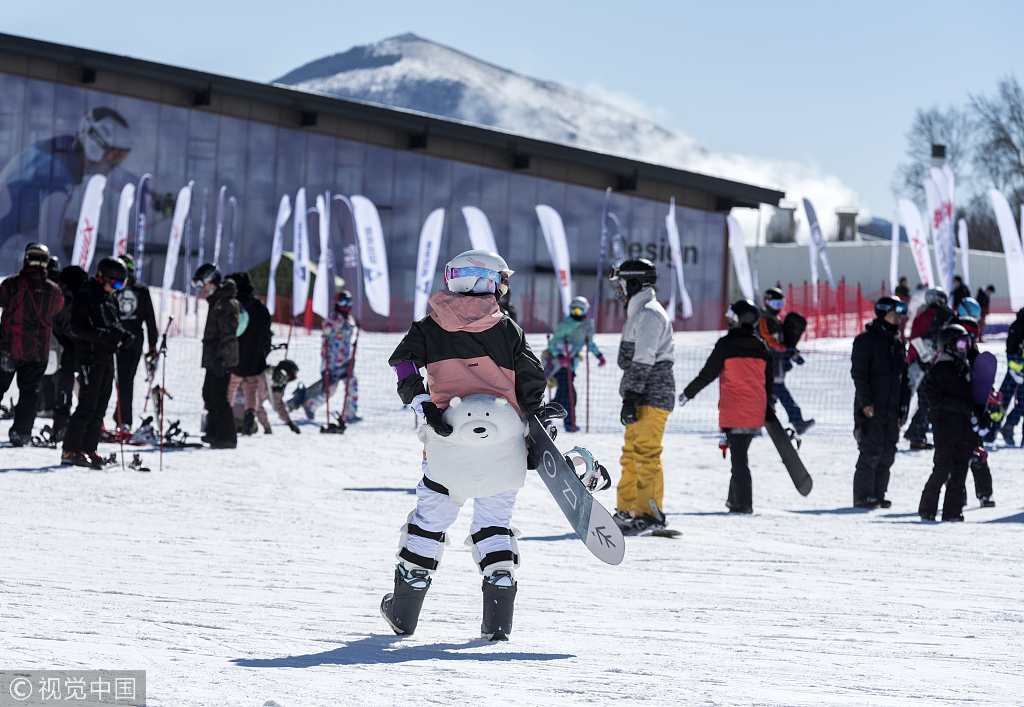 With post-Games venue use and regional development at its core, the Beijing 2022 Winter Olympics' legacy plan is expected to bring benefits to both locals and the country's winter sports sector for decades to come.
Three years before the 2022 Olympics open in Beijing and co-host city Zhangjiakou in Hebei province, organizers have begun visualizing a burgeoning winter sports industry, sound progress in regional development and bettering people's lives as core objectives of a master plan released on Tuesday elaborating on the Games' legacy beyond 2022.
The plan focuses on the design, implementation and review of legacies in seven aspects-sports, society, economy, culture, environment, and urban and regional development-with key emphasis placed on reusing as many existing facilities as possible, popularizing winter sports among the public and minimizing environmental impact.
It has also identified responsible organizing committee departments, stakeholders and venue owners to deliver each project before, during and after the Games as well as deadlines for a total of 35 specified tasks.
The Beijing 2022 Olympics will be the first Games to draft and deliver a legacy plan in line with the International Olympic Committee's Agenda 2020 reform proposals, which were introduced to make future Olympics sustainable and beneficial for hosts.
"To set the framework as early as we did today and to take action before the Games' opening will help lay the foundation for all the efforts we are making for 2022 to continue yielding benefits in the decades to come," said Han Zirong, secretary-general of the Beijing 2022 organizing committee.
Beijing has been repurposing 11 existing venues and projects left over from the 2008 Summer Games in its downtown area for competition and noncompetition functions in 2022.
Among them, the transformation of the National Aquatics Center-known as the Water Cube-into an "Ice Cube" for curling by filling the pool with retractable structures and making ice sheets above has impressed the world.
Being able to shift between swimming and curling venues will diversify the business operation, revenue stream and services for the public at the venue, said Yang Qiyong, general manager of the facility.
According to the plan, some new, permanent 2022 venues, such as the National Alpine Ski Center in northwest Beijing's Yanqing district, have been developing post-Games business modes for not just sports but also tourism functions.
Supported by Beijing Forestry University, the district government has identified all the transplantable trees within the construction area and will move them to a nearby 50-hectare park for continuous protection, said Zhang Suzhi, deputy director of Beijing 2022's Yanqing operation center.
In Zhangjiakou's Chongli district, where most of the snow events will be held in 2022, newly shaped courses in Genting have already hosted multiple World Cup series events in freestyle skiing and snowboarding since December.
China's plan to involve 300 million people in winter sports leading up to 2022 facilitated by a national goal to build 650 indoor skating rinks and 800 ski resorts by then will open up numerous business opportunities in training, venue operation, equipment production and tourism, thus creating jobs for locals in Yanqing and Chongli, said Yi Jiandong, a professor at the National School of Development of Peking University.
"The legacy could produce benefits far beyond the competitive achievements at the Games if properly planned and delivered," Yi said.