Naan - a booming industry in Xinjiang
Share - WeChat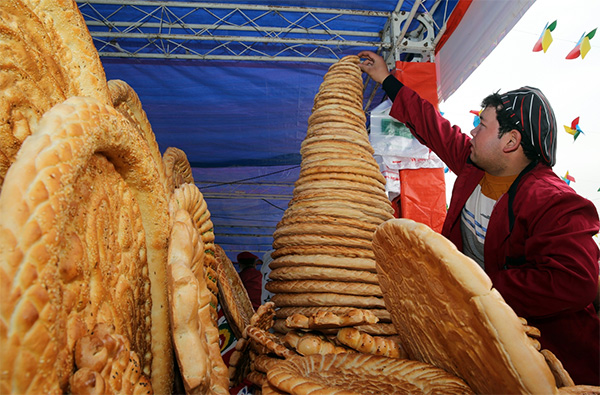 Chef Abdu Salam's everyday job is to make impeccable naan dough with his rolling pin and hands, a skill he has honed over the last four years working with a village naan master.
Salam, 22, made naan in his home village in Yengisar county of Kashgar before his new job brought him to Urumqi, capital of Xinjiang Uygur autonomous region.
Fulaimeida Specialty Food Company, Salam's employer, is located in a 37,100-square-meter area set aside for naan-making businesses a month ago in Urumqi. Now it is home to 19 naan makers who sell over 100 varieties of naan ranging from nine-grain, spicy, to rose fillings and yogurt.
Naan is a type of leavened flat-bread and a staple food for people of ethnic groups in Xinjiang. A dozen years ago, almost every family had a naan stove made of clay and fueled by wooden charcoal.
Now, the use of charcoal is diminishing in Urumqi due to air quality concern. Though Salam learned to bake naan in charcoal stoves, his workplace uses electric ones. Some stoves are powered by gas.
Salam wears white chef apparel from head to toe and has stainless steel kitchen counters, which means he does not worry about getting his face stained by soot.
"Naan cooked in an electric oven tastes different from naan cooked in clay ovens. But no matter what, freshly baked naan is good naan," he said.
Salam and his co-workers make 6,000 to 7,000 naan a day. At the price of 3 yuan (about 45 US cents) to 6 yuan apiece, the disc-shaped bread is sold to restaurants, hotels, supermarkets and shops across the city, home to over 2 million people.
"There is a huge demand for naan. It is something we eat every day," said Salam, pounding the dough with a rolling pin.
Salam earns 3,000 yuan a month and gets free accommodation in a dormitory. "If I keep working here, I hope I can earn enough to buy an apartment and a car," he said.
The Urumqi naan industrial and cultural park hires more than 1,000 workers, 400 of whom are from impoverished areas in southern Xinjiang.
Producing naan on an industrial scale helps entrepreneurs expand capacity and meet market demand, particularly from e-commerce.
"Before this, we could only meet local demand. Sales outside Xinjiang weren't our priority," said Yang Xuekan, general manager of Yaxin Naan Food Co. Ltd. "Now that we have more kitchen space, we can supply products to e-commerce retailers outside the region."
The naan industry in Xinjiang has boomed over the last two years, said Nurmamat Tuniyaz, deputy secretary of the Communist Party of China leading group with Xinjiang Autonomous Regional Department of Agriculture and Rural Affairs, while attending a naan fair in Kuqa County in December.
In places like Weili County in central Xinjiang, about 520 kilometers from Urumqi, naan vendors serve their clients the traditional way.
Yasop Taphan, 63, and his wife make 50 kg of palm-sized oily naan each day. The couple sells the naan through a county association that has a sales network both locally and outside Xinjiang.
His wife prepares a tray of dough to be placed into the giant clay oven. Having made naan for the last 19 years, Taphan knows exactly where each piece of dough is on the tray without having to turn around to check.
"My son is in charge of the shop now. I'm ready to retire, but since business has been so good, I'm glad I can still help," said Taphan.
Xinhua
Most Popular