Red envelope: Chinese New Year tradition with a digital twist
Share - WeChat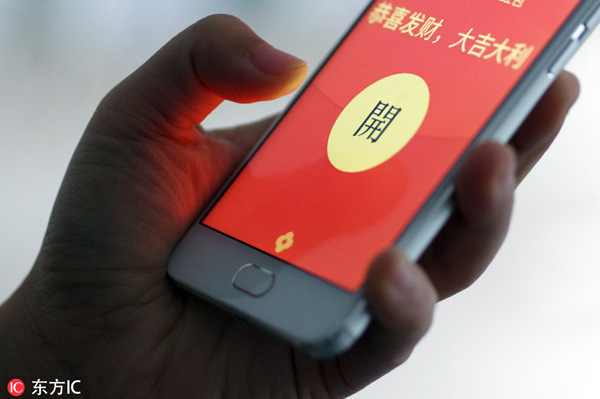 Chinese people's enthusiasm for the century-long tradition of sending "red envelopes" stuffed with cash to families and friends in special time have been rekindled in the digital age.
WeChat, a popular calling and messaging app, for years has extended its dominance in Chinese New Year communication, as well as red envelope-exchange with its digital wallet.
But this year, the app launched its "Holiday Red Envelope", allowing users to add well wishes and stickers to a money gift in a customized gift package.
WeChat's official data show that people born in the 1990s led the red envelope blitz on Monday night, which was Chinese New Year's Eve.
People in this age group both sent and received the most red envelopes on that night.
Beijing, Chongqing and Guangzhou are the top three cities where red envelope-exchanges were the liveliest, according to WeChat data.
WeChat also saw the busiest new year wish-exchange from 8 pm to 9 pm on Monday night, coinciding with the first hour of the roughly four hour-long Spring Festival Gala, a must-see TV show for most Chinese families over their reunion dinner.