Environmentalists want dam to stop desertification in Hoh Xil National Nature Reserve
Share - WeChat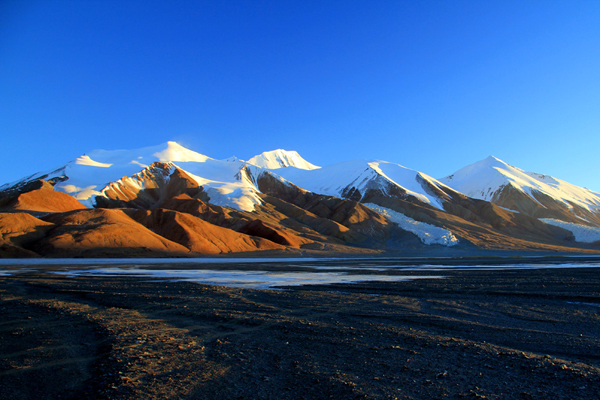 A Chinese environmentalist group is advocating the construction of a dam to prevent the desertification in the frozen soil area in Hoh Xil National Nature Reserve in Qinghai province, an isolated region in the northwestern part of the Qinghai-Tibet Plateau and an UNESCO World Heritage.
The dam's proposed site is near the reserve's Zhuonai Lake — a major breeding area for the once endangered Tibetan antelopes, according to Lu Shanlong, a professor at the Aerospace Information Research Institute, Chinese Academy of Sciences and a researcher with the China Biodiversity Conservation and Green Development Foundation.
After bursting its bank in 2011, the lake has bared much of its floor, which later became a major source of sandstorms wreaking havoc on the region's vulnerable ecology, he said.
Lu said the dam would help drive up the lake's water level to its original level and submerge its sandy rim, which would help to harness the sandstorms.
Zhou Jinfeng, the foundation's secretary-general, said the dam would also reduce the water flow to the lakes' downstream, whose rising levels threaten to flood the Qinghai-Tibet railway lines, roads, and inhabitants further down.
"The project is urgently in need," Lu said. "If we fail to act in time, the coming summer could rip the Zhuonai Lake's discharge opening larger and pose a great challenge downstream."
He was speaking at a panel discussion held on Monday following a January expedition organized by the foundation to study the region's desertification.
Qu Jianjun, a professor at the Chinese Academy of Sciences' Cold and Arid Regions Environmental and Engineering Research Institute, who also attended the discussion, said sand control in the region is important because it is also the headstreams of three rivers including the Yangtze River, China's longest.
"It is also the delivery room of the Tibetan antelope, and we cannot afford to let it develop on its own," he said, adding the project is a good way for human to intervene.