China uses AI assistive tech on court trial for first time
Share - WeChat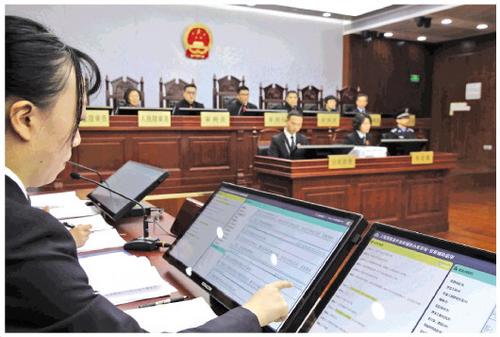 For the first time in China, AI assistive technology was used at Shanghai No 2 Intermediate People's Court on Wednesday, the Legal Daily reported.
Inside the courtroom, a screen was placed in front of all people present at the trial, including in the public gallery. When the judge, public prosecutor or defender asked the system, named "206 system", it displayed all related evidence on the screen. For example, playing the surveillance video at the entrance of Unit 2 or presenting the defendant's psychiatric report.
The court heard a robbery and murder case on the day. Though the case was complicated, the 206 system displayed evidences comprehensively and clearly.
The 206 system can not only transfer voice into characters precisely but also distinguish questioner and responder.
"The transcript and evidence presentation went along as the trial proceeded. The 206 system realized full-course intelligence assistance and reviewed evidences comprehensively, playing an active role in impartial judgment," said Wu Haiyin, deputy head of information department of Shanghai High People's Court.
Guide on evidence collection of 102 common cases has been programmed in the system, which can help police reduce or eliminate flaw and omission when they obtain evidence. It also has questioning models for different types of case, providing guide to police during questioning. The system can generate inquiry record automatically afterwards.
"The 206 system is an integrated AI assistive system for criminal cases. It can help the judge find fact, authenticate evidences, protect the right to appeal and judge impartially on the trial, so as to prevent wrongfully convicted cases," said Guo Weiqing, president of Shanghai No 2 Intermediate People's Court, also the chief judge of the robbery and murder case trialed on Wednesday.
On Feb 6, 2017, the Political and Judiciary Commission under the Central Committee of the Communist Party of China gave the task of developing an AI assistive system on criminal cases to Shanghai. During the following two years, Shanghai allocated more than 400 people from courts, procuratorates and public security bureaus, working with more than 300 IT staff from tech giant iFlytech.

Since May, 2018, the 206 system has been trialed in several provinces and cities in China.