Qinghai nurtures winter sports talent
Share - WeChat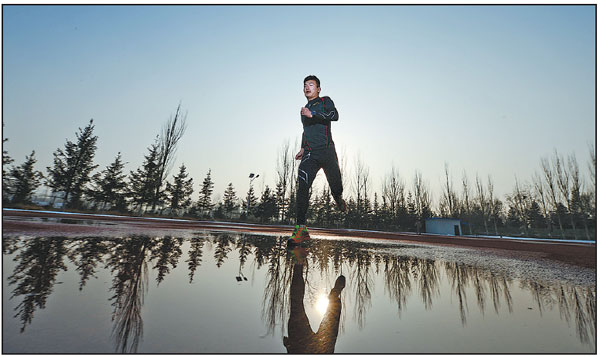 Growing up in a remote village in northwestern China's Qinghai province, Dudru Cering knew close to nothing about winter sports. However, he is now a cross-country skier.
Dudru, a 15-year-old member of the Tibetan ethnic group, previously played soccer at a local sports school. In October, he was selected to be a cross-country skier by the provincial sports college due to his good physical condition.
He is now training at a national sports base in Huangzhong county, in the provincial capital Xining.
At over 2,000 meters above sea level, Duoba National Highland Sports Training Base is famous for its high-altitude training environment, which can enhance athletic performance and improve endurance.
The base has been called the "manufacturer of gold medals".
"I really want to take part in the 2022 Winter Olympic Games, though I'm just a rookie," Dudru said. "I'm curious about everything, and cross-country skiing is really cool."
Dudru's mother is a farmer taking care of 0.3 hectares of land, while his father is a herdsman looking after more than 200 goats. Dudru usually contacts his parents through video calls on WeChat.
"I show my new skiing equipment to my father," he said. "He's very interested in the equipment as he hasn't seen it before.
"My father encouraged me to work hard because he said that for a herdsman's child it is a very precious opportunity that I should cherish."
Ba Yunji, a retired athlete and national cross-country skiing champion, coaches Dudru and 13 other teenagers.
"It was hard to keep them on their feet at the beginning of training," Ba said. "But I have faith in them. They will become excellent athletes."
Ba said a growing number of teenagers has been participating in winter sports in China since 2015, when Beijing won the bid to host the 2022 Winter Games.
Since then, ski resorts and skating rinks have been constructed in more Chinese cities, not only in developed regions in eastern and southern China, but also in the country's lessdeveloped western regions.
Qinghai is home to the headwaters of three major rivers - the Yangtze, Yellow and Lancang (Mekong). Its average altitude of over 3,000 meters above sea level and low temperatures during winter make it an ideal place for winter sports.
However, due to a relatively backward economy, the development of winter sports in the province only started recently.
There are now over 10 skating rinks in Qinghai, with more locals visiting winter sports venues in recent years.
"I'd like to go out to skate or ski rather than stay at home since I have new options in the winter," said Guo Yayan, from Xining.
Meanwhile, a variety of related activities including tourism and outdoor games have sprung up in the province.
To attract more locals to take part in winter sports, Qinghai has been making efforts to improve winter sports facilities.
In December, it staged the International Curling Elite 2018 at the Duoba training base, attracting 18 teams from nine countries and regions including global winter sports powerhouses like Canada, the United States, Russia, and Scandinavian countries.
"Introducing international events is an important measure to promote the development of winter games in Qinghai," said Liu Xinghai, who is in charge of the training base.
Liu added that the province is not only fostering cross-country skiing teams, but also other winter sports talent.
Liu said the training base is now building a 160-hectare ski resort to train athletes.
Xinhua