Young Chinese drive rise in reading books
Share - WeChat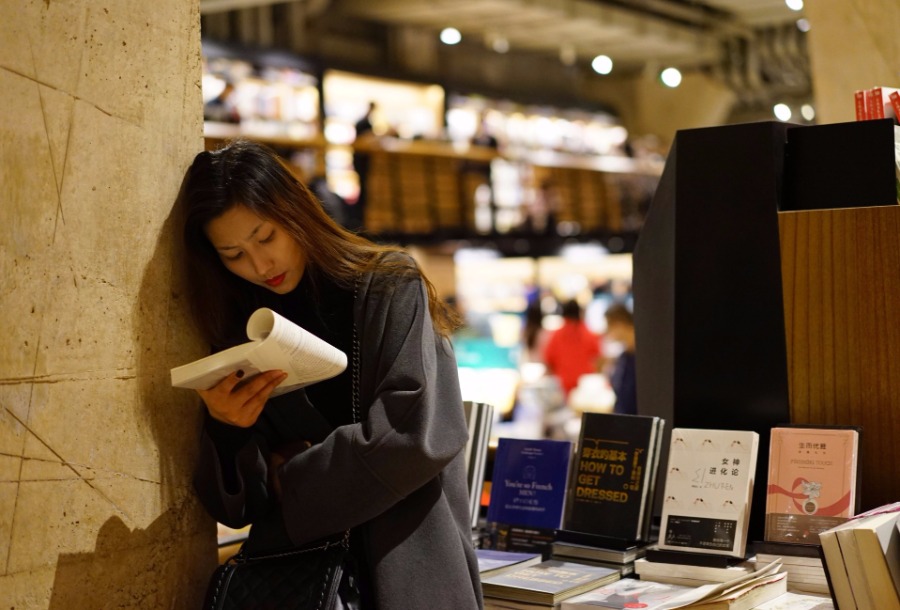 The number of China's readers and the total time Chinese spent reading saw a significant increase in 2018, a new report from Chinese e-commerce giant Alibaba said.
The report, based on data from Alibaba's platforms, including e-commerce platforms Tmall and Taobao, flea market platform Xianyu, and internet literature platform Alibaba Literature, attributed the increase to easy and convenient ways to buy books and the popularity of e-books.
According to the report, in 2018, the number of Chinese readers increased by almost 30 million, the majority of whom are people born in the 1990s and 2000s, and those who bought or read books on these Alibaba's platforms on average have read one more book compared to 2017 and purchased 5.5 print books.
The report also offered some insights into the reading habits of Chinese readers. Compared with their elders, young Chinese born in the 1990s and 2000s prefer e-books to print books, according to the report. Almost half (46 percent) of e-book readers are people born in the 1990s. People aged 18 to 34 account for more than 60 percent of users on Tmall's e-reading app. The peak time for reading books on cellphones is from 9 pm to 11 pm, the report said.
Chinese people show different reading preferences for content when reading in digital and traditional formats. Fiction, success literature and books in social sciences and the humanities are the most popular book genres for e-reading, while for traditional reading, people turn to children's literature, textbooks and supplemental materials, picture books, magazines and journals.
Provinces and municipalities in coastal areas have the most voracious readers in China, the report found. Guangdong province, with citizens accounting for 11.5 percent of the country's readers, came on top for book reading and purchasing, followed by the provinces of Jiangsu (8.4 percent) and Zhejiang (7.2 percent).
The year 2018 also saw a boom in sales, swaps or giveaways of used books, the report noted. Data from Xianyu showed that over the past year, Guangdong residents traded or gave away 1.59 books per person on average, the most in China, followed by Shanghai residents with 1.11 books and Beijing residents with 1.08 books.