School fuels hope of brighter future for struggling students
Share - WeChat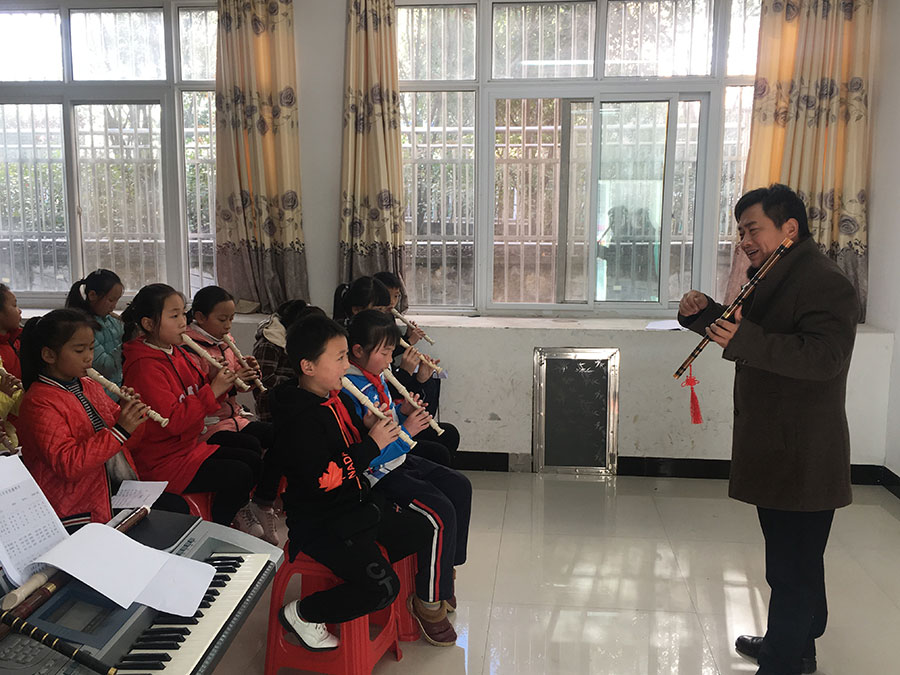 Project designed to keep children in poor families from quitting their primary education
In 1990, when it was still under construction, Jinzhai Hope Primary School in Anhui province received its first donation-about $0.10-from Chai Peiying, an elementary student living a few hundred miles away.
Zhou Huosheng, a teacher in Kunshan, Jiangsu province, sent his first donation in 1993 after reading about the school in the media. Since then, the 84-year-old has contributed 480,000 yuan ($69,500), helping support more than 1,300 pupils.
The primary school in Jinzhai county's Nanxi was the first to be established under Project Hope, an initiative launched by the Communist Youth League Central Committee and China Youth Development Foundation to help keep students from dropping out.
The country introduced nine years of compulsory education in 1986, but extensive poverty at the time meant that an estimated 4 million children a year were quitting before completing primary school.
Project Hope was launched in 1989 to reverse that trend. By 2016, organizers had raised 12.95 billion yuan, built 19,388 schools nationwide-including 128 in Jinzhai-and helped more than 5.5 million students.
Jinzhai, in a mountainous area where the boundaries of Anhui, Henan and Hubei provinces meet, was an important revolutionary base for the Communist Party of China and was where a major branch of the Red Army was founded.
In the 1990s, its remote location and poor transportation links had held it back as one of China's most impoverished areas.
Sun Yongqi was transferred to Jinzhai Hope Primary School to teach art in 1991. He said it was not as well-equipped as it is today but it had the best infrastructure for the area.
He had started his career in 1983 at a primary school built in an old ancestral hall in Jinzhai's Tangjiahui.
"The teachers were quite old, like grandmas and grandpas," he said. "The blackboard was a patch of wall smeared with cement and coated with black paint. And the roof of my dormitory leaked on rainy nights, so I had to push the bed around."
When construction was completed on Jinzhai Hope Primary School in May 1990, about 300 students were absorbed from the existing primary school. By 1991, it had grown to 500.
"Nanxi was very poor, and Nanxi Street was known locally as Firewood Street and Pig Manure Street. About a third of the children couldn't go to school because of poverty, and many dropped out for the same reason," Sun said.
When he started at the primary school, a two-story building with 27 classrooms housed 500 students, mainly from the neighborhood, and about 30 teachers.
Today, the school is almost double that size. About 50 teachers and more than 900 students inhabit a modern five-story building, with classrooms featuring high-tech multimedia equipment.
Four lessons are given on weekday mornings, and on Tuesdays the final class is for extracurricular programs. Some students learn painting or computer programming, while others study music or practice calligraphy. In one class, Wang Lin, a Chinese-language teacher, was showing students how to take photographs.
"I don't know that much about photography actually, but we have no teachers like that, so I teach myself about it first and then pass the knowledge to the students," Wang said.
As China's economy has developed rapidly over the past 40 years, the central government has increased investment in elementary education to ensure that compulsory education is free to all. This fact, along with donations from millions of people at home and abroad, such as Chai Peiying and Zhou Huosheng, far fewer children are dropping out of school because of poverty.
Yet, while the hardware at Project Hope schools is sufficient, there remains a shortage of teachers qualified in subjects such as music, physical education, art and information technology.
"We're in a remote area," said Liao Guilin, 47, vice-principal of Jinzhai Hope Primary School. "Graduates prefer to work at the schools in town. Even if they teach here for a couple of years, they will leave for positions in better places, which is understandable."
Sun, the art teacher, added: "I'm wondering whether we can train our own talent in music, PE, art and IT-people who live in the town and will not leave so easily. That's one direction for Project Hope to develop."