Heritage preservation fueled by opening-up
Share - WeChat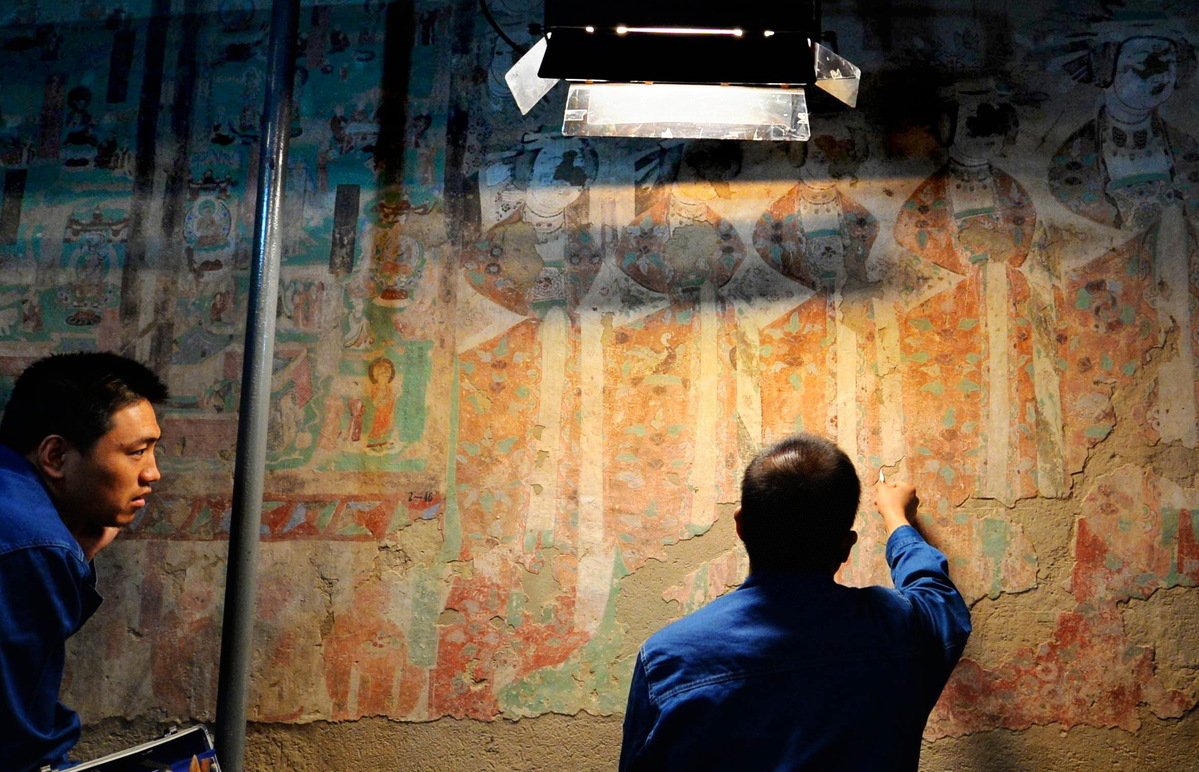 The tide of China's opening-up has been a great help for the preservation of Dunhuang's ancient relics, according to the city's head of cultural heritage protection.
The government opened Dunhuang, Gansu province, as a window to the outside world in 1979. The original Dunhuang Museum was built to showcase ancient tools, paintings and other archaeological finds.
"In past times, cultural treasures were displayed in crude glass cabinets, and the museum building was quite shabby," said Shi Mingxiu, director of Dunhuang's cultural heritage administration. "But in 2012 we opened a new museum that covers 7,500 square meters and features the architectural style of a Great Wall beacon tower."
The collection of artifacts has expanded in the new building, and the facilities, exhibitions and services are considerably better, he said.
Similarly, he added, Yangguan Pass, a landmark on the southern route of the ancient Silk Road, received fewer than 5,000 visitors a year before the Yangguan Museum opened in 2003. Last year, the scenic spot was visited nearly 400,000 times.
Shi said economic and social developments have paved the way for the conservation of cultural treasures.
"Since 2008, when the central government implemented the Culture To Benefit the Masses program nationwide, the Dunhuang Museum has been the recipient of considerable subsidies to improve its services and waive admission fees," he said.
By the end of last year, the city had 46 folk art troupes, 30 museums, five theaters and a public library housing more than 240,000 books.
Shi said the city plans to set up more than 100 museums of various scale in urban and rural areas, as well as develop Dunhuang into a large cultural heritage and relics park.
"The changes in people's lives and production models, as well as the spirit of craftsmen, are embodied in their tools, housewares, clothes and other objects," he said. "At this point, we can build folk museums in villages to display objects and pass down the knowledge, which can contribute to rural revitalization."
In addition, international collaboration since the reform and opening-up policy was introduced has led to scientific approaches to heritage protection, such as at the Mogao Grottoes, a Buddhist site more than 1,600 years old.
The caves were China's first UNESCO World Heritage site, but for a long time they have been affected by human activity and erosion by weather.
"Before reform and opening-up, we mainly relied on ourselves to preserve and rehabilitate the site," said Wang Xudong, director of Dunhuang Academy, a top-level research institute.
Later, with help from experts in Japan, the United States, the United Kingdom, Australia and other countries and regions, high-tech tools have been employed to closely monitor the microbes, carbon dioxide and humidity in the caves. Precautionary actions were taken to prevent its clay Buddha figures and murals from being destroyed.
In August 2014, a Mogao Grottoes digital display center was opened, allowing visitors to get a rough idea of the historic site before seeing the real thing. They can watch a film on its history and view digital representations of several frescos.
This has cut the time tourists stay in the caves, helping protect the fragile ancient gallery, Wang said.
In recent years, with the Belt and Road Initiative, Dunhuang has moved into the global limelight for its rejuvenation of traditional culture, especially that of the ancient Silk Road, through its wide use of digital tools and staging of international cultural events.
The first Silk Road (Dunhuang) International Cultural Expo in 2016 attracted guests from 85 countries, according to Zhan Shunzhou, the city's Party secretary. Annual inbound tourism has increased by about 50 percent since 2015, Zhan said.