Lender a reliable business partner
Share - WeChat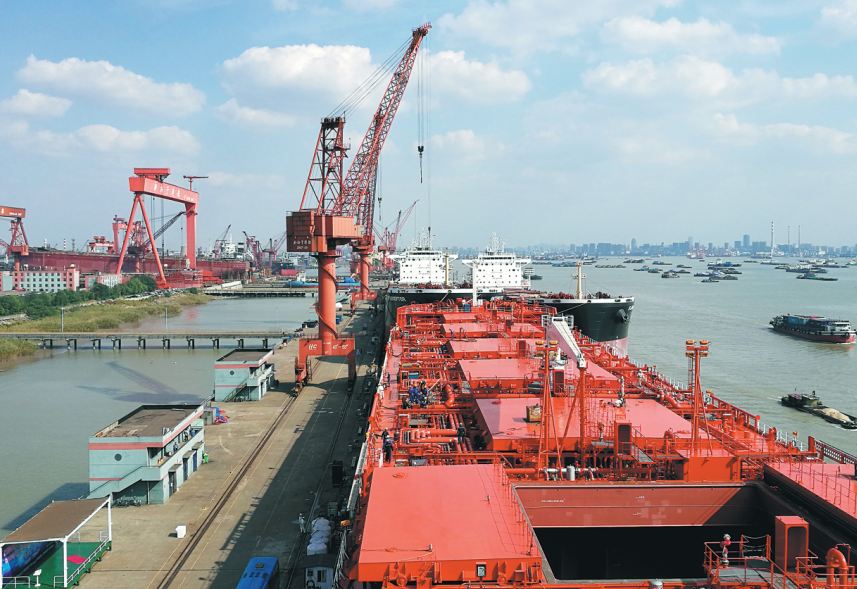 China CITIC Bank giving strong support to private companies in Jiangsu province
China CITIC Bank Corp, a national joint-stock commercial lender headquartered in Beijing, has been providing strong support to private manufacturing companies in Jiangsu province, as they look to become more sustainable and upgraded.
One is Jiangsu Yangzijiang Shipbuilding Group, a large private Chinese shipbuilding company listed in Singapore, which is seeking new drivers of growth and looking toward a transition in the maritime shipping sector.
"As long as the oceans do not dry up, the demand for ships will always be there," said Ren Yuanlin, chairman of YZJ Group. "One of the most important things we are doing is to find ways to maintain our strategic focus during the massive sector reshuffle and be the strong one to survive."
YZJ Group's main products include medium and large container vessels, bulk carriers and gas carriers. The company exported products to countries and regions such as Europe, the United States and Southeast Asia, with total annual exports of $2 billion.
The firm has also branched out overseas, and in September, announced that it had reached a joint venture agreement with Mitsui & Co to establish a new ship-owning company in Panama.
However, according to Ren, the deal to consolidate shipbuilding knowledge was partly a way to grow stronger, and survive the upcoming industry reshuffles.
The US-China trade dispute will also have a huge impact on the shipbuilding industry, said Ren, as a decrease in trade volume will dampen demand.
China too is tightening its regulatory requirements on environmental protection and pushing ahead with the reduction of excess capacity. These efforts will also cut the country's demand for commodities and affect the shipbuilding business, he said.
As such, the need for a reliable provider of credit is an important one.
YZJ Group's demand for repayment guarantees is around $2 billion to $3 billion a year. One third of that is met by China CITIC Bank, with Ren claiming that it is more flexible than other large State-owned commercial banks.
An example is that YZJ Group once built a group of vessels, but the client was not able to afford the payment when the contract was due. During a discussion with the client about delaying the payment, YZJ Group learned that the repayment guarantee, which was close to its expiration date, had to be renewed as soon as possible. Other-wise, the shipbuilder, rather than the shipowner, would be liable for the default.
The group talked to the bank that issued the repayment guarantee, but was told that extending the expiration date is against the bank's rules. In that time of crisis, it was China CITIC Bank who came to the rescue, offering a new guarantee when the other expired.
"Large international companies are very tough. China's large State-owned commercial banks are also tough. Sometimes neither of them agree to make a slight change to their contracts, rules, or the way they do business. China CITIC Bank, however, will analyze each case and find out whether making a small change will have big consequences. If not, the highly marketized bank will make the change to push ahead with the business," Ren said.
"Banks should make their own analysis of a business project and shoulder the responsibility, rather than simply going with the stream. Nowadays, banks usually leave people with the impression that they enjoy putting the icing on the cake - but will not provide timely help in a client's hour of need. China CITIC Bank, on the contrary, is sometimes willing to offer fuel to a client on a snowy day. It's not easy," he said.
In Jiangsu province, the real economy, which is concerned with producing goods and services, now contributes more than 80 percent of economic volume. The province is also making a transition from traditional manufacturing to smart manufacturing, according to senior executives of China CITIC Bank.
"Made in Jiangsu is a calling card for the province. We must play the card well and offer financial services with a strong focus on the advanced, high-end and smart manufacturing companies," said Lu Jin'gen, business director of China CITIC Bank and president of its Nanjing branch.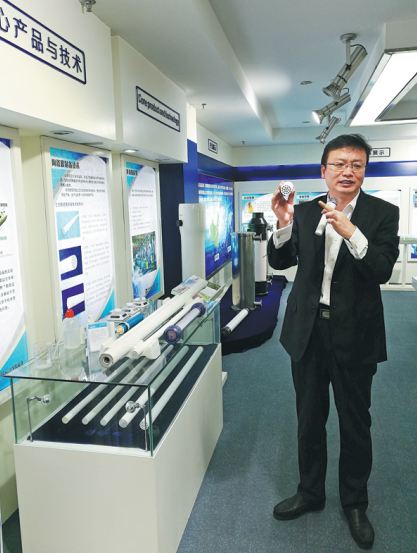 Over the last 20 years, the bank has continuously supported Jiangsu Jiuwu Hi-Tech Co, a company principally engaged in the research, development and application of membrane separation technology. Currently, the company has an annual credit line of more than 100 million yuan ($14.6 million) with the bank.
First established as a small business conducted by Nanjing Tech University in 1997, Jiuwu Hi-Tech has grown into a leading Chinese integrated membrane technology solution provider with 145 patents to its name. Its major competitors in the domestic market are primarily French and US companies.
After benefiting from China CITIC Bank's assistance in multiple areas, including banking and financial management advisory services, Jiuwu Hi-Tech made its IPO on the Nasdaq-like Growth Enterprise Market in Shenzhen on March 23, 2017.
"Jiuwu Hi-Tech and China CITIC Bank have built a close partnership and a high-level of mutual trust, which significantly reduced the cost of transactions. Our mid-level executives are very familiar with one another," said Dang Jianbing, chairman of Jiuwu Hi-Tech.
"After our company became listed on the Growth Enterprise Market, we've entered a phase of rapid growth, and our demand for comprehensive financial services will also increase. We hope to receive stronger support from the bank," Dang said.