Huatai set to list shares in London
Share - WeChat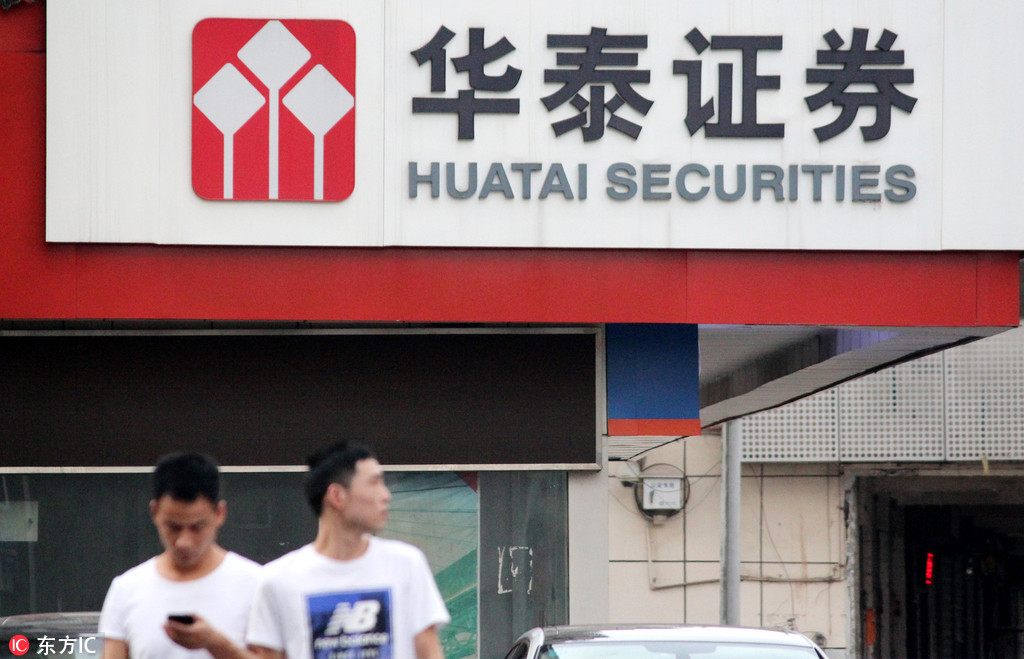 Brokerage to issue Global Depositary Receipts through new stock connect
Huatai Securities Co Ltd saw its shares climb by 1.19 percent on Wednesday, as investor sentiment rose over its plans to become the first mainland-listed company to also list on the London Stock Exchange.
On Tuesday night, the Shanghai-listed brokerage announced its board has passed a resolution to apply to issue Global Depositary Receipts trading on the main market of the London bourse.
The announcement made Huatai Securities the only A-share listed company with a disclosed plan to take advantage of the long-awaited Shanghai-London Stock Connect so far.
Once entering operation, the stock connect program will allow companies listed on the Chinese mainland to sell GDRs - certificates representing ownership of their shares - on the London Stock Exchange to global investors. London-listed companies can in turn raise funds on the Shanghai Stock Exchange in the same way.
As a major step in China's financial opening-up process, government officials have vowed to ensure the stock connect starts trading by the end of the year.
Huatai Securities said on Tuesday that the timing of issuing GDRs will depend on global capital market conditions and the regulators' speed in approving its applications. No more than 825.15 million new A shares, or 10 percent of the company's total share capital prior to the GDR issuance, will be issued as underlying shares represented by the GDRs, it said.
By issuing the certificates, the company said it expects to raise no less than $500 million, or 3.8 percent of its net asset, as of June 30, according to its disclosures.
The capital will be used to facilitate its internationalization strategies, through business expansion and brand recognition enhancement in domestic and core international markets, including the United States and Europe. The company said its efficiency and sustainability will also be improved with the additional capital.
The company has already developed its business in Hong Kong and the United States, from which it gained about 12.3 percent of its revenue in the first half, according to its disclosures.
"The issuance of GDRs will lay the foundation for it (Huatai Securities) to explore the European market," according to a report by Beijing-based CITIC Securities Co Ltd.
The report said the issuance will help the securities company to provide services for future clients intending to raise funds on the London Stock Exchange, as the company will experience the whole process itself first.
"Some A-share listed companies with overseas business could benefit from GDR issuances under the Shanghai-London Stock Connect, by both exploring new fundraising channels and enhancing brand awareness overseas," said Chinese economist Song Qinghui.
Zhou Lanxu and Ma Shuyuan contributed to the story.