Sino-Argentine relations on upswing
Share - WeChat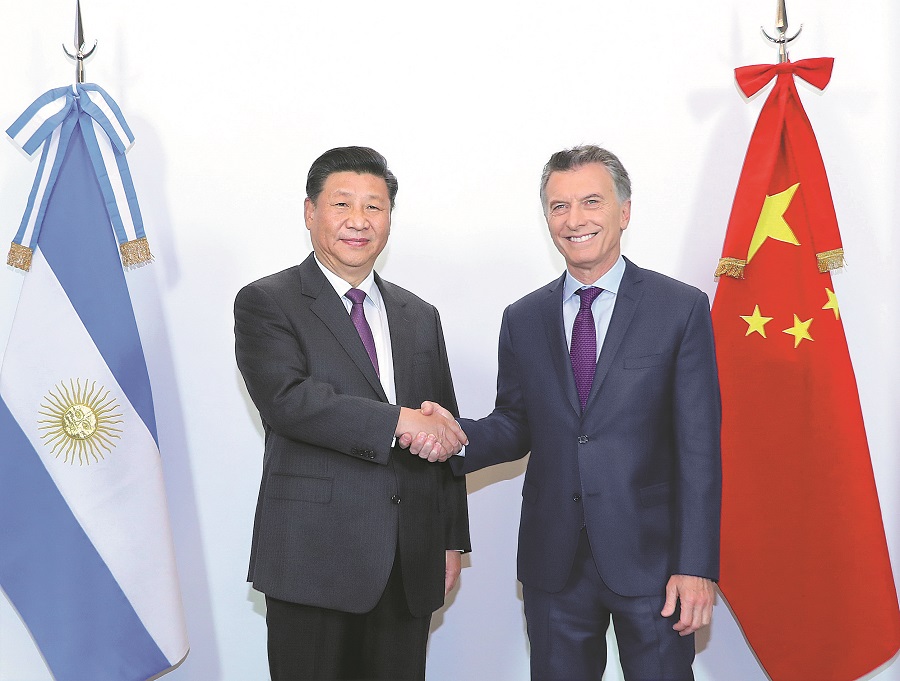 Presidents agree to create a visionary blueprint for future
China and Argentina, both influential developing nations, should jointly support multilateralism and build an open and inclusive world economy, President Xi Jinping said on Sunday.
Xi made the remark while meeting with Argentine President Mauricio Macri in Buenos Aires during a state visit to the South American country after he attended the G20 Leaders' Summit on Friday and Saturday.
The two leaders witnessed the signing of a series of cooperation deals after their talks. China would like to increase its imports of products and services from Argentina and facilitate bilateral trade, Xi said.
He noted that it was the fifth meeting between the two presidents in the past two years, setting a record in China-Argentina relations.
The two leaders agreed to map out a blueprint of bilateral relations with a broad vision and to make joint efforts to create a new era for the China-Argentina comprehensive strategic partnership.
Saying that the international situation is undergoing complex changes and facing new challenges, Xi said the two countries should deepen practical cooperation in all areas and make new contributions to global peace, stability and prosperity.
They should continue to support each other on issues related to core interests and major concerns, and firmly support each other's development path, Xi said.
Mentioning that Argentina's economy has experienced fluctuations this year, Xi said China will take concrete action to support the country's financial stability. China is confident about the future of Argentina's development, he added.
Xi proposed the two countries enhance communication and cooperation under the Belt and Road framework, connect their development strategies and promote bilateral cooperation in all areas.
China supports Argentina in diversifying its energy sector and would like to work with the country to carry out its flagship energy projects, Xi said, adding that China would like to participate in the country's infrastructure projects and promote interconnectivity between Argentina and the rest of South America.
The two countries should boost exchanges of youth, culture, education, tourism and sports to increase mutual understanding between the peoples of both nations, he said.
Xi said China would like to enhance coordination with Argentina under multilateral systems and ensure that the outcomes of economic globalization provide more benefits to developing countries.
As a sincere friend and partner of the Latin American people, China believes that Latin American countries have the wisdom and capability to achieve peace, stability and vitality, he said, adding that China would like to make joint efforts with them to build a community with a shared future for both sides.
Xi congratulated Argentina on the success of the recent leaders' summit, saying that it sent correct, positive and reassuring signals to the world. He noted that during the meeting, leaders of major countries reached consensuses and issued a declaration, all of which have great significance.
The success of the meeting will be helpful in maintaining the multilateral trading system, building an open global economy and injecting impetus to the global market, he said.
Macri welcomed Xi's visit and expressed gratitude for China's help and support in his country's development.
Noting that this year marks the 40th anniversary since the launch of China's reform and opening-up policy, Macri congratulated the country on its great achievements in economic development and poverty reduction.
China has become a main engine for global economic growth, and its development has a great influence on the development of Argentina and other Latin American countries, Macri said.
Argentina is dedicated to deepening its comprehensive strategic partnership with China and enhancing cooperation under the Belt and Road framework, he said.
Argentina is pleased to take this opportunity to sign the plan of common action with China for the next five years and expand cooperation in such areas as agriculture, finance, airlines and infrastructure, he said.
Also on Sunday, Xi received Argentina's highest decoration, the Order of the Liberator General San Martin.