Ready to take on Samsung, Apple
Share - WeChat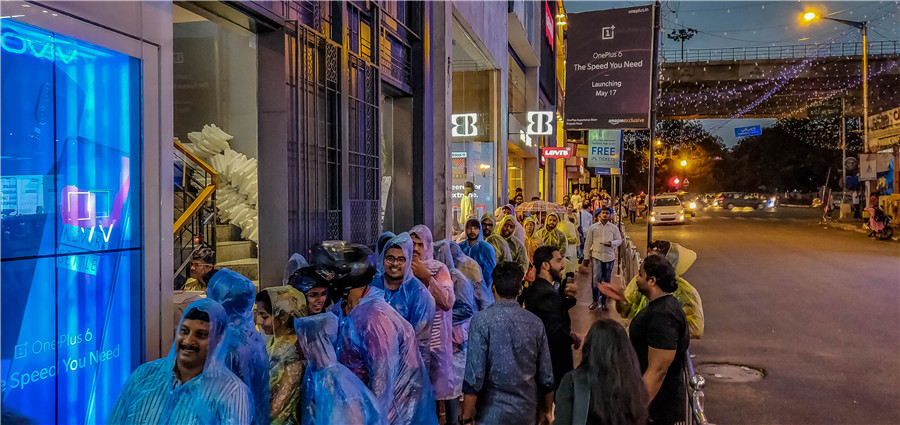 China's OnePlus is ramping up its play in the high-end smartphone segment
Imagine a quiz question that goes something like this: Which Chinese smartphone brand commands a user community of more than 5 million members from 196 countries and regions? Or: Which Chinese smartphone brand's products are sold directly in 35 countries and regions worldwide?
Most people may guess it might be Xiaomi, Huawei, Vivo or Oppo. But the correct answer is: OnePlus.
The Shenzhen, Guangdong province-based smartphone manufacturer is ramping up its global presence to attract more users and seek new growth engines.
It is also itching to give a tough fight to global high-end smartphone leaders Samsung Electronics Co Ltd and Apple Inc.
OnePlus entered the US offline market in October after receiving the backing of two key local allies in chip giant Qualcomm Inc and mobile operator T-Mobile US Inc.
The strategic partnership with T-Mobile allows OnePlus to sell its 6T model exclusively at the carrier's over 5,600 stores in the US. Typically, a OnePlus 6T model handset's starting price is $549. It is the first time that a OnePlus handset has been sold through a US wireless provider.
There are good reasons why the 6T model found favor in the US market. The handset boasts a 6.41-inch sophisticated display screen, Qualcomm Snapdragon 845 processor, 8GB RAM and up to 256GB storage. It features a 3,700mAh battery and a dual rear camera made up of a 20-megapixel main sensor and a secondary 16-megapixel sensor at a competitive price.
All these specifications and price points of the 6T model have been giving consumers eyeing Samsung or Apple devices second thoughts.
The rise of OnePlus comes after US mobile carriers AT&T and Verizon this year backed away from plans to work with China's Huawei Technologies Co Ltd on high-end smartphones in face of pressure from the US government.
While some OnePlus models have been on sale in the US through e-commerce websites, carrier relationships like the one with T-Mobile are critical because most US consumers still buy phones through their carriers.
The company's slogan is "Producing the best Android flagship smartphones". It has spread widely since the company's launch five years ago.