Alibaba gives Rwandan startups a leg up for farming innovation
Share - WeChat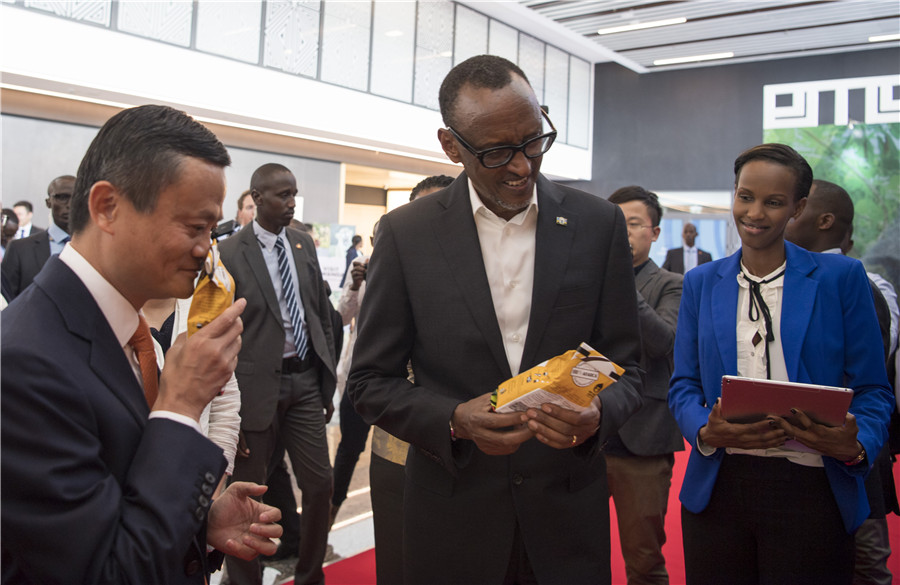 KIGALI - A startup hub on the fourth floor of a commercial building in Rwandan capital city Kigali is where Dioscore Shikama incubates his agritech e-commerce company.
The 26-year-old set up a target to serve global farmers after participating in a training program for e-commerce business founders provided by China's e-commerce giant Alibaba in China in November 2017.
Founded in 2016, AgriGo Ltd provides farmers with advisory services via mobile and allows them to keep records of farming costs through its electronic platform AgriGo.
AgriGo also plans to launch a marketplace service next year, where farmers can post their harvests and buyers can select farming products.
Considering the fact that many farmers in Rwanda do not have smartphones but only have feature phones, AgriGo basically operates based on SMS and USSD, or unstructured supplementary service data, while AgriGo's partner organizations and companies use AgriGo's smartphone application to provide information to farmers.
Alibaba's training program eFounders Fellowship, created to find and empower 1,000 platform builders who can leverage Alibaba's experience in China, opened his vision, Shikama said.
The two-week course provides first-hand exposure to and learning about e-commerce innovations from China and around the world that enabled growth and a more inclusive development model for all.
The program motivates him to "acting locally, but thinking globally", Shikama said. "When we develop our platform, we consider farmers in Brazil, China and other areas in the world, who were not applied to before I went to China," he said.
The course also helps the young entrepreneur know how to develop a team from a startup to a bigger company and gives him a better understanding of data.
For example, Alibaba's online payment platform Alipay inspires him to have an idea of a payment solution for farmers, by which buyers can pay through two-dimensional barcodes, or QR code, to farmers' bank accounts, he said.
"Alibaba is bringing in experience and skills transfer," he said.
Alibaba not only provides training to business founders but also e-commerce educators.
An e-commerce club to prepare students for online business opportunities and to impact them the knowledge of starting e-business and trade online has been set up at the University of Tourism, Technology and Business Studies of Rwanda (which is known as the UTB), after its three teachers attended Alibaba's training program for educators.
Jean Baptiste Mbanzabugabo, dean of the Faculty of Business and Information Technology of the UTB, together with his two colleagues in August attended Alibaba's Global eCommerce Talent Program, an intensive learning session for trainers and professors who are looking to develop an e-commerce course in their home country.
After completing the program held in Rwanda, Mbanzabugabo proposed a UTB's global e-commerce talent program to the management of the university, which seeks to bridge the skills gap of young professionals to meet employability and entrepreneurship needs of Rwandan economies, business and entrepreneurs, while shaping young digital talents and small and medium enterprises to better understand the e-commerce model and ecosystem, as well as operational, business analytical and entrepreneurship skills.
"Alibaba's training for educators comes at the right time as the world is going high today when electronic (utilization) comes as number one," said Mbanzabugabo.
Trained educators are able to instruct business founders who are not able to afford premises to have an online platform, he said. They can also impact students with business and IT skills to have entrepreneurship skills of starting an online business, he added.
E-commerce is just getting started in Rwanda, but it will create more jobs for young people, open the market for Rwandan sellers and introduce Rwandan products to the world, said Shikama.
"I'm hoping it will help export, so that it can bridge the gap between import and export," he said.
E-commerce provides people who can't afford setting up premises and infrastructure for doing business with opportunity to start an online business, said Mbanzabugabo.
It also enables business people to expand their business boundaries and "meet potential customers from all over the world", he said.