Rwanda, Alibaba launch Africa's first eWTP
Share - WeChat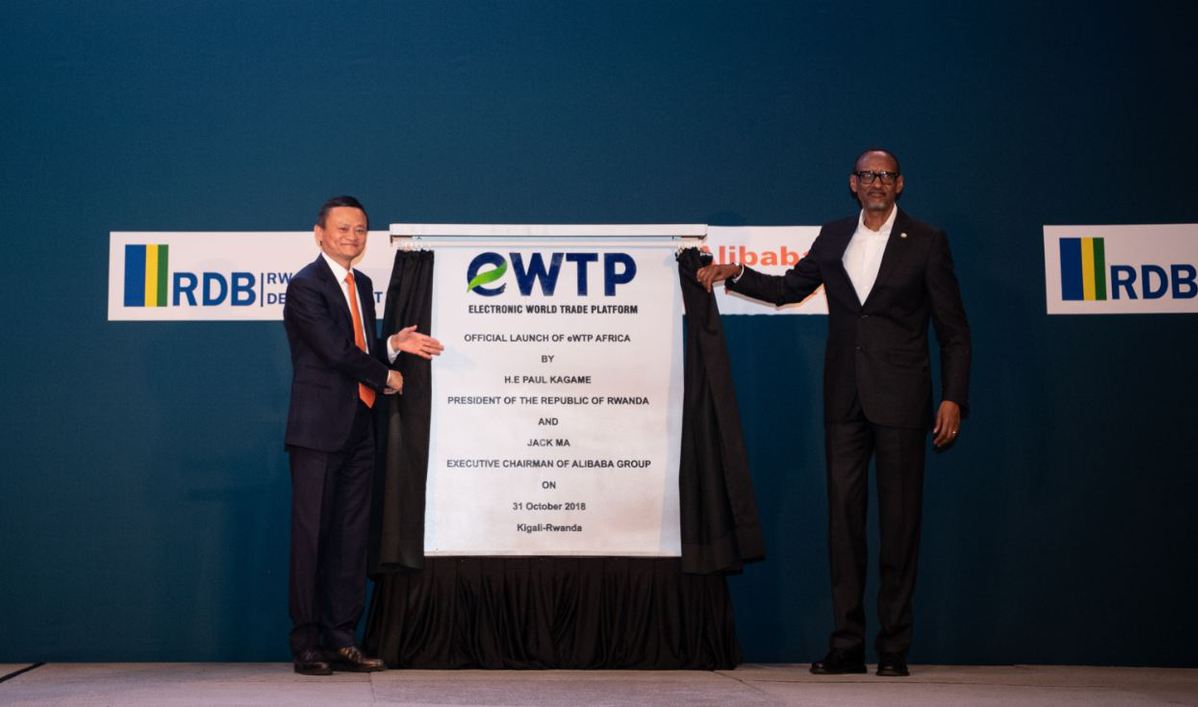 Rwandan government and Alibaba Group, China's biggest e-commerce company, Wednesday launched the first electronic world trade platform (eWTP) in Africa meant to promote trade and tourism between Rwandan and Chinese consumers.
Rwandan President Paul Kagame and Alibaba Group Executive Chairman Jack Ma officially launched the eWTP hub in the Rwandan capital, Kigali.
The eWTP will strengthen Rwanda's economy by promoting trade and tourism between Rwanda and Chinese consumers, according to Rwanda Development Board (RDB).
Under the agreement, Alibaba Group will work with the Rwanda Development Board to help Rwandan small and medium enterprises (SMEs) to sell their products, including coffee and handicrafts, to Chinese consumers through Alibaba's online marketplaces, it said.
According to RDB, Alibaba Group travel services platform, Fliggy, and the RDB will also work together to promote Rwanda as a tourist destination through a Rwanda tourism store for booking flights, hotels and travel experiences.
This is the second such platform to be launched outside China, the first having been launched in Malaysia last year.
Speaking at the launch, Jack Ma said setting up eWTP hub in Rwanda attracted a lot of negative opinions but he remained committed that Rwanda was the right place.
According to him, people said how Rwanda could host eWTP hub without sophisticated internet, logistics, market, payment and all the other related things.
"I said this is why we came here. When other people complain, we take this as opportunity and today's Africa is much better than the 90 years ago China," he said.
"I am delighted that Rwanda is the first partner in Africa. I look forward to the development of an innovative digital economy here," he added.
Speaking at the same event, Kagame reiterated that Rwanda greatly values the growing relationship with the Chinese private sector and Alibaba Group in particular.
"The product being launched today is a tangible example of that, and one that we intend to build on for mutual benefit," he said.
Kagame challenged Rwandan companies and young people to take full advantage of this technology and not lose sight of fundamentals, saying it is up to each firm to produce high-quality goods that customers want to buy and to ensure consistent supply.
He noted that Rwandan producers will be able to sell directly to a much larger set of customers than before while bypassing costly intermediaries.
"This improves productivity and profitability. Put differently, there really are no downsides to doing business on a global scale," Kagame said.
He observed that the electronic world trade platform opens up new frontiers in e-commerce and tourism for Rwanda and will also boost the capacity and competitiveness of the country's entrepreneurs and business people.
The Hangzhou-based Alibaba Group runs Taobao online shopping site, and Tmall, a facilitator of online stores.
While in Rwanda in 2017, Jack Ma committed to invest in the East Africa's human capital to boost SME capacities.
He said then that this would include training emerging entrepreneurs across the region to enable small and medium enterprises build e-commerce platforms and using the internet to grow their enterprises.
It would also involve taking about 200 young African investors to his firm's headquarters to learn latest skills in e-commerce, artificial intelligence among other sectors.