'Smelly' noodles now come in a package
Share - WeChat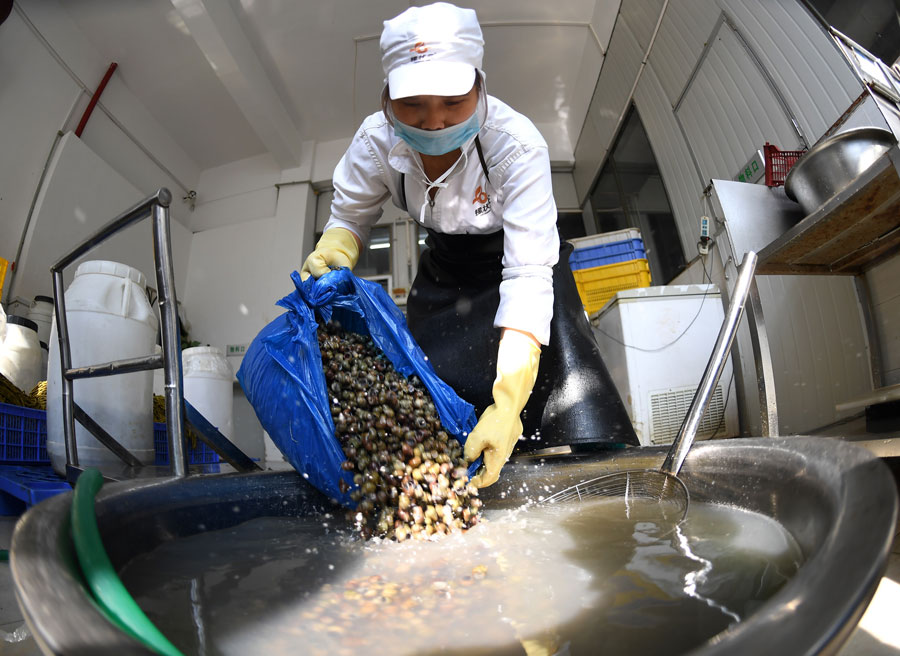 Yuan Xiang is ordering instant luosifen-a specialty of Liuzhou, Guangxi Zhuang autonomous region-online with friends in Shanghai.
"It's the third order we've placed this month," she said. "It might seem smelly to someone tasting it for the first time, but it tastes really good once you eat more."
Luosifen, which is made of rice noodles boiled and served in soup flavored with river snails and pork bones, is usually sold at roadside stands or night fairs in Liuzhou.
However, it has received more positive responses from customers from other provinces and even in Western countries such as the United States, according to Jia Jiangong, vice-director of the city's commerce office.
"Luosifen is now an iconic product of Liuzhou," he said. "However, it was not convenient for people outside of Liuzhou to come here and eat rice noodles made in the traditional way, so we invented prepackaged luosifen, which resembles instant noodles. Customers can cook it for themselves and have delicious rice noodles anywhere, anytime."
The packaged luosifen has a shelf life ranging from 30 days to three months, according to the city's government, and was welcomed by customers after it hit the market in late 2014.
Jia said that more than 1 million bowls of luosifen can be sold online and in physical shops in a single day.
"About 80 to 90 percent is packaged. Revenue in the industry is more than 300 million yuan ($44 million) so far this year."
He said the value of prepackaged luosifen is estimated to reach 5 billion yuan this year and 10 billion yuan in 2022.
More than 5,000 retail stores have opened so far nationwide. The rice noodle is also exported to countries such as Canada, Singapore and Australia, according to the government.
Liu Qingshi, general manager of Luozhuangyuan Food Co, Liuzhou's first luosifen-making company to export to the United States, said the product is in high demand.
"We exported seven shipments of 350,000 luosifen to the US in January, which we sold for $4 per pack and received very positive responses from customers. Now we have about 20,000 packs of luosifen on their way to Germany."
Jia said preferential policies have been given to companies to help scale up production.
"We give 100,000 yuan to retailers if they open a store in a province outside Guangxi," he said. "Financial subsidies are also open to them if they settle their headquarters in the luosifen-themed industrial park that was built in 2016."
The rice noodle dish emerged in the 1970s and swept the country in 2012 after being introduced on A Bite of China, a television show on China Central Television.