Display firms eye big share of global pie
Share - WeChat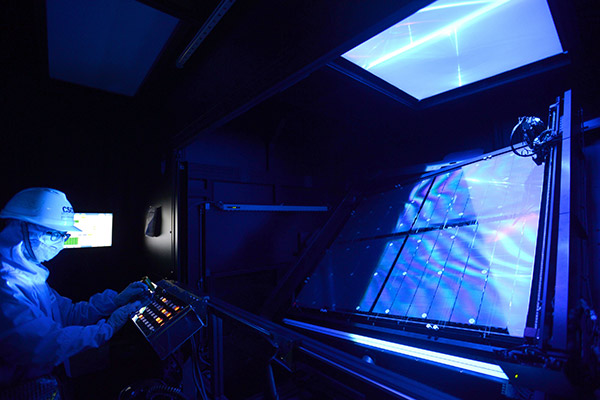 Manufacturers unveil new production lines to boost output, enhance competitiveness
Shenzhen China Star Optoelectronics Technology Co Ltd announced a new production line for large-screen ultra-high definition 8K display products and organic light-emitting diode screens on Wednesday, a move that will help China's display panel industry to make headway against overseas competitors, according to industry experts.
With a total investment of 42.68 billion yuan ($6.14 billion), the project is expected to launch mass production in March 2021, with 90,000 modules set to be manufactured each month in the initial stages.
Located in Shenzhen, Guangdong province, the plant will produce 65-inch, 75-inch and 85-inch ultrahigh definition panels and improve the proportion of OLED products.
A TCL Corp subsidiary, CSOT also announced on Wednesday its Gen 11 TFT-LCD and active-matrix OLED production line has officially entered operation. The project will produce 43-inch, 65-inch and 75-inch liquid crystal display screens.
Li Dongsheng, chairman of TCL and CSOT, said the company will continue to innovate, enhance its competitiveness and ramp up efforts to build Shenzhen into the world's largest semiconductor display industry base after the completion of the new production line.
In addition to large screens, the company started work on a sixth-generation low temperature polysilicon AMOLED display panel production line in Wuhan, Hubei province, last year. With an investment of 35 billion yuan, the project will produce small and medium-sized high-resolution display panels that are flexible and foldable for high-end smartphones.
"The new production line of CSOT, which involves commercial displays and cutting-edge OLED technology, will enhance TCL's overall competitiveness in the flat-panel display sector, and speed up the popularization of large televisions," said Zhang Hong, research director at Beijing-based market researcher Sigmaintell Consulting.
Zhang said Chinese display panel companies will become the major large panel suppliers, surpassing their South Korean counterparts in the future.
China is expected to replace South Korea as the world's largest flat-panel display producer in 2019, according to a report from the China Video Industry Association and the China Optics and Optoelectronics Manufacturers Association.
Revenue from the country's display industry topped 200 billion yuan last year, and shipments of display panels totaled 57 million square meters in the first half of 2017, accounting for one-third of global shipments, second only to South Korea.
BOE Technology Group Co Ltd, the country's biggest display producer, announced in December that its Gen 10.5 TFT-LCD production line had entered operation in Hefei, Anhui province. The plant will produce high-definition LCD screens of 65 inches and above.
"China's semiconductor display industry has taken large steps forward in the past decade, changing the display industry's global competitive landscape. China has transformed into the world's largest consumer market and manufacturing base for display terminals, with huge market potential," said BOE Vice-President Zhang Yu.