Volkswagen displays attractive models with improved tech at CIIE
Share - WeChat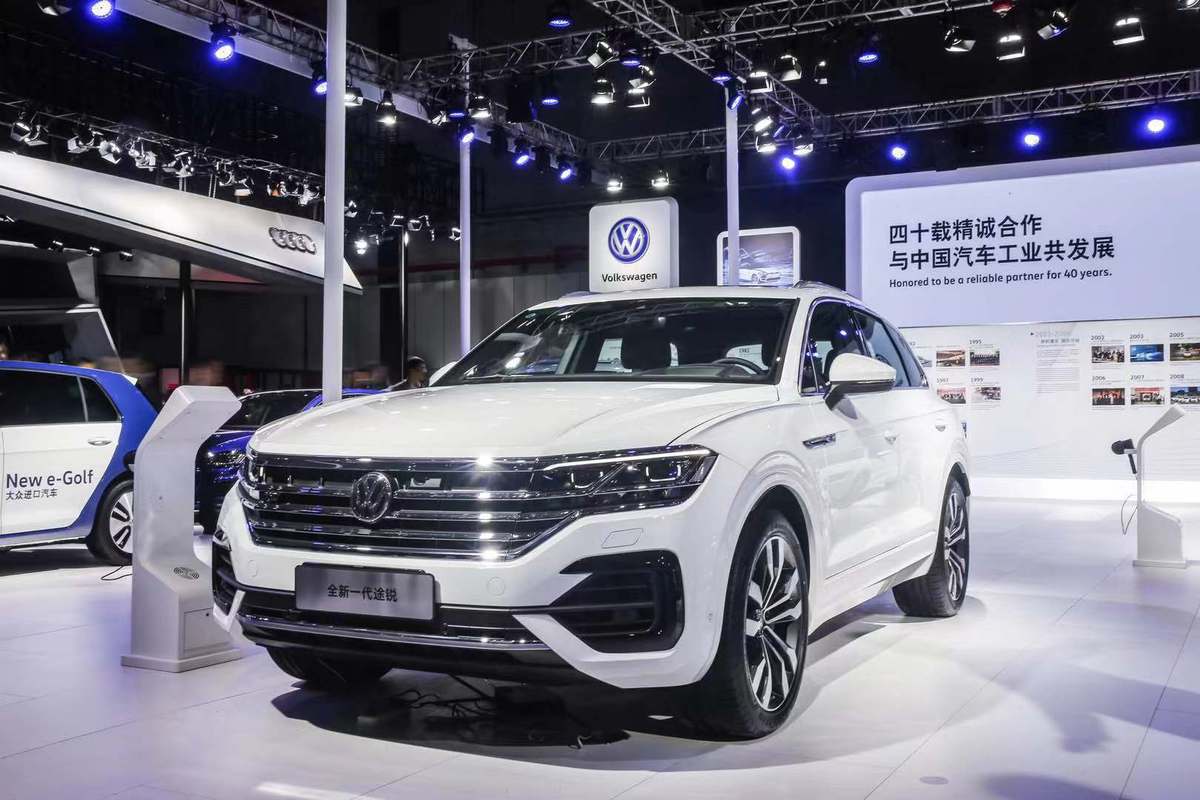 Volkswagen displayed a lineup of popular models at the China International Import Expo, held from Nov 5 to 10 in Shanghai, showcasing the company's achievements in e-mobility, connectivity, digitalization, mobility services and its commitment to strengthening cooperation in the world's largest auto market.
"The CIIE marks both a celebration of the remarkable progress China has made during the 40 years of its reform and opening-up, as well as an important statement of intent to further open up and drive growth in its trade with the rest of the world," said Jochem Heizmann, member of the board of management of Volkswagen Aktiengesellschaft as well as president and CEO of Volkswagen Group China.
"Volkswagen Group China supports this event by presenting the most innovative import cars, which are strengthening the brand's image," Heizmann said.
The All New Touareg, exhibited at CIIE, attracted many visitors.
Launched in September, the premium SUV is based on the Volkswagen Group's MLB Evo platform, which is designed for shared modular construction of its front-engine vehicles.
Equipped with the 4-Motion AWD System, Air Suspension System and All-Wheel Steering, the All New Touareg allows for smooth driving under challenging conditions.
The model features the Innovision Cockpit, which consists of a 12-inch digital instrument cluster, a 15-inch touch screen that is angled towards the driver and a head-up display.
It integrates the digital instruments and infotainment system to form a comprehensive digital operating, information and entertainment unit.
It's especially worth mentioning that the vehicle also comes equipped with Zhong Xing Jia, Volkswagen's connectivity service with more than 20 functions, including call center service, online services, and remote monitoring and control.
The connectivity service, customized for Chinese customers, is intended to create a more intelligent and convenient driving experience.
Another highlight of the Volkswagen's CIIE booth is the pure electric vehicle e-Golf, a new vehicle that hit the market in March, with the aim of promoting e-mobility in China.
"With China's rapid development over the past decades, customer demands have changed, particularly with regards to environmental protection. Volkswagen Import is already one of the few companies to import NEVs to China," said Axel Schroeder, managing director of Volkswagen Import.
The new e-Golf features e-manager function, which allows drivers to search for nearby available charging piles and see the car's condition through their smartphones, as well as an updated automatic parking system.
According to the company, the model has a 255-kilometer range and can reach 80 percent of its charging capacity within 40 minutes, using the fast charging network.
Compared with other electric vehicle, the e-Golf provides an exciting and dynamic driving experience, thanks to the XDS electronic differential lock.
It can improve the traction and handling of the electric vehicle and allow for superior handling with improved responses for an even safer drive than that provided by most such vehicles.
Together with three different driving modes, customers can match their needs to the drive and adapt speeds and ranges according to their habits.
Since Volkswagen started importing cars into China in 2004, it has introduced a total of 24 of Volkswagen's imported models including the Touareg, the Beetle, e-Golf, Sharan and many others.
These high-quality German vehicles and their services have been the choice of more than 560,000 Chinese customers.
To better serve Chinese customers, Volkswagen Import has cooperated with dealers to establish more than 130 points of sale, covering more than 80 cities nationwide. Volkswagen Import plans to launch the plug-in hybrid Volkswagen Variant GTE at the upcoming Guangzhou International Automobile Exhibition and the plug-in hybrid version of the All New Touareg in the near future.
"Looking towards the future, we are committed to going electric and being fully connected," said Schroeder.