Facial recognition gets a thumbs-up
Share - WeChat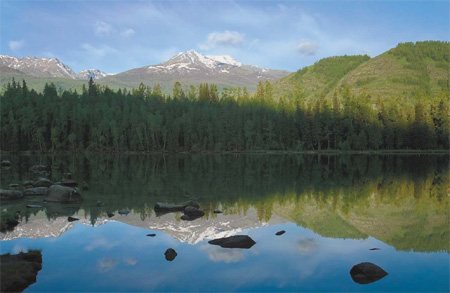 Facial recognition technology is working well at tourist attractions around the country, reducing time people spend standing in lines at entries or security checks and freeing up venue resources to enhance visitors' experience, those using the technology say.
The technology is in use at 65 scenic spots and will be extended to more than 300 by the end of this year, according to China Central Television.
Xie Jiayan, general manager of Kanas Altay Wisdom Travel Co, who is actively engaged in the modernization of the Xinjiang Uygur autonomous region's Kanas National Geopark, said facial recognition has brought great convenience both to travelers and park employees.
"We once used a fingerprint identification system but with poor results because fingerprints, especially those of the elderly, can't be recognized in cold winter temperatures," she said.
Xie said the new system, however, can identify a traveler even under strong light or in darkness, and is not affected by weather. The system has been used since August.
The system is open only to travelers with multi-entry permits, while travelers with single-entry tickets can get into the park by swiping an ID card, she said.
"Cameras at park entry points will take a snapshot of travelers with a multi-entry ticket, with which they can get into park again after their faces are initially captured," she said.
Xie said that travelers used to wait at entries for ticket checks for at least 30 minutes during peak season, but the time is greatly reduced now.
"Illegal ticket scalping is also eradicated," she said. "We have more time to offer services to travelers rather than spending time checking tickets."
The facial recognition system has also received a positive response from travelers.
Xiao Zhenlin, 54, who visited the geopark over the National Day holiday, said: "The system makes my trip easier. I hope more attractions will adopt this technology."
The technology will be used for hotel check-ins and restaurant reservations, Xie said.
It was developed jointly by Beijing-based Aibee, a high-tech company in artificial intelligence research, and Send Intelligent based in Hangzhou, Zhejiang province.
Facial recognition technology has been promoted as part of "smart tourism", in which travelers can enjoy safer and easier trips based on data analysis and AI.
Longmen Grottoes in Luoyang, Henan province, introduced facial recognition to help simplify entry procedures in September 2017.
Supported by Tencent Youtu Lab, the system used at the grottoes allows travelers to get into the attraction by matching their face with a snapshot taken at the entrance.
Smart tourism - initiated in Zhenjiang, Jiangsu province, in 2010 - is recommended both by authorities and tourist attractions. National tourism authorities released a guideline to help promote smart tourism in 2015.