Village finds winning formula for garbage
Share - WeChat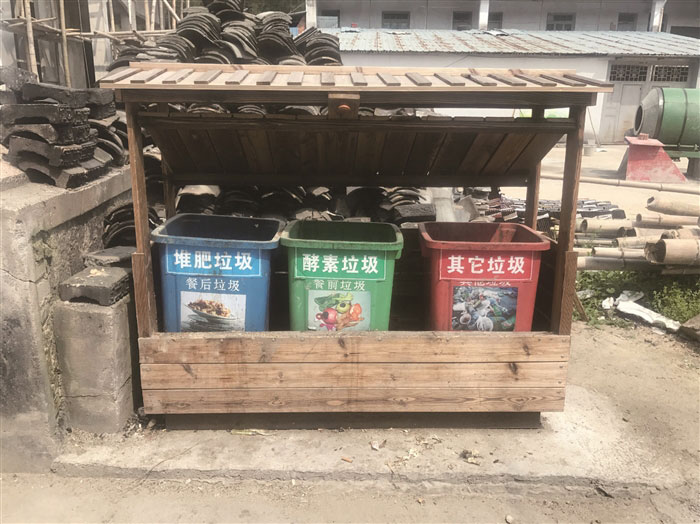 Empty nesters pick up trash for points that they can redeem for other items
Waste classification and recycling has been difficult to promote in China, and there are few examples of success. A trial program in a mountain village populated almost entirely by empty nesters, however, is a bright spot.
A "zero pollution" campaign was launched in Jianling village, Fenghua, Zhejiang province in December, and some big changes followed. Now, little trash can be seen-not even a cigarette butt on the ground-although some refuse was spotted at one place along the roadside. The village comprises more than 300 long-term residents, the youngest of whom is 48. The younger generation is absent, having migrated to other places to find work.
Before the campaign, about half a metric ton of waste was generated in the village every day. In the busy farming season, the sole garbage vehicle often failed to transport the trash away for treatment in a timely manner, and waste continually piled up at the roadside, recalled Wang Jianguo, the village Party chief.
"A major reason for the large amount of waste was that people had no concept of garbage sorting," he said, noting that many threw things that could be composted-such as rotten vegetables and fruit-into the trash can.
He said residents mainly depend on peach trees to make a living, and many of them would throw empty pesticide bottles and packages randomly around their farms.
The idea for the "zero pollution" campaign occurred to Liu Anfen, now 69, a retired teacher from the village who had settled down in an urban area. She became concerned after finding that the village, once characterized by "lush mountains and clear water", had been increasingly troubled by trash. She shared the idea with Wang and won his support.
"I had been participating in environmental protection activities for a while at the time. I wanted to do something for my hometown," Liu said.
The campaign was not easy to start because of villagers' lack of consciousness about environmental protection. Each household was given three large trash bins: red and green ones for uncooked and cooked kitchen waste, and a blue one for other waste. Some people refused to use the bins because they thought sorting waste was troublesome. Some suggested distributing the money needed for the campaign among the residents.
Local officials visited those who refused to cooperate regularly and gradually managed to win their support, Liu said.
Kitchen waste is used to make urea and natural fertilizer. For other waste that can't be recycled locally, such as pesticide packages and wastepaper, Liu and Wang came up with a points-based gift redemption program to promote classification.
This makes things interesting, Liu said.
At a monthly environmental protection fair, people can exchange points accrued in garbage collection for daily necessities. Villagers will get half a point, for example, for one cigarette butt.
A female resident surnamed Mao once got scissors and a thermos bottle using the points she accrued by collecting cardboard cartons.
"Previously, we threw them away," she said. "They can now be used to exchange for daily necessities, so I save them."
The income from selling collected waste is far from enough to cover the expense and many of the commodities are simply donated by people who are enthusiastic about environmental protection, Liu said.
Wang said waste in the village has been reduced by 80 percent. About 70 percent of it is used to make natural fertilizer.
He said the campaign won support from the township government after it proved successful. In addition to a startup fund of 30,000 yuan ($4,400), the local government will now offer each village that wants to copy the model 10,000 yuan annually to sustain operations.