Challenging not losing temper in 21 days becomes internet hit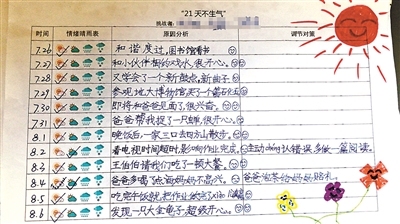 Can you go for 21 days straight without losing your temper?
A challenge of going 21 days without losing your temper, which was set as homework for a class of third-grade students and their parents during the summer vacation in Wuhan, has suddenly become an internet hit, reports the Beijing Youth Daily.
The homework was set by Cheng Hong, the head teacher of the first class of the third grade in the Zhonghua Road Elementary School in Wuhan's Wuchang District.
Attention was immediately drawn to the special homework after it was shared on the internet, despite the summer vacation having ended weeks ago.
Some netizens commented that 21 hours is already a long time let alone 21 days, while other doubted the necessity of the challenge.
Cheng told the Beijing Youth Daily that the aim of the challenge was to remind parents about the importance of ensuring a good domestic environment for children to be able to learn to manage their emotions.
Based on the "diary-like" recordings of the 44 students in the class, only one set of twins and their parents completed the challenge. Cheng says she found that parents were more likely to get angry than the children, with 80 percent of the disputes originating from the children's homework.
Many parents who participated in the challenge were cited as saying that they have learnt the importance of managing their emotions on a daily basis as this will have a major effect on the children's emotions.
One mom has also reportedly come up with innovative ways of managing the bad emotions in the family during the challenge. In this family, the balcony was chosen as the place to calm down and penalties will be given to the ones who lost temper, according to the Beijing Youth Daily report.