Nation aims to boost AI to benefit world
Share - WeChat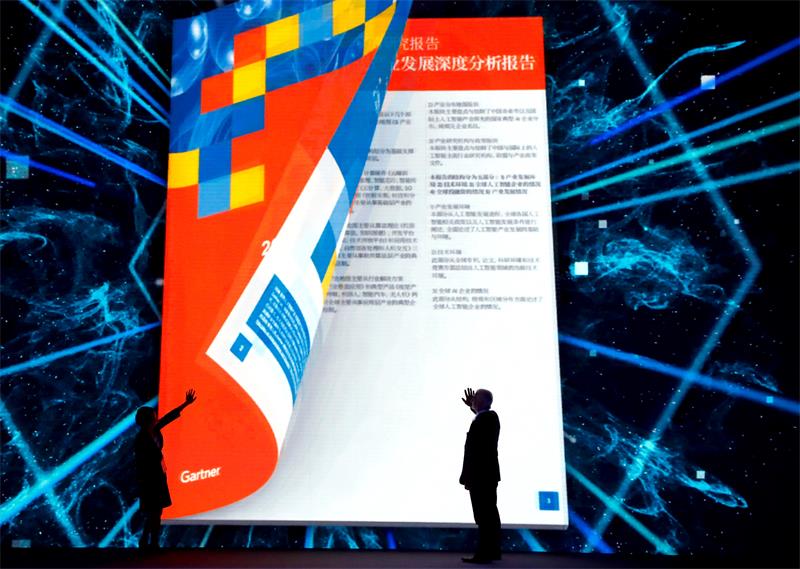 President says China willing to share opportunities created by technology
China is willing to promote development, maintain security and share results with other countries in the field of artificial intelligence, President Xi Jinping said on Monday in a congratulatory letter at the start of a gathering in Shanghai that has drawn some of the world's top AI luminaries.
The president said China is willing to share development opportunities in the digital economy with other countries and called for joint efforts in promoting AI for the benefit of mankind.
Xi stressed the importance of dialogue and cooperation in the booming sector, as China is quickly climbing the ranks of AI, which is starting to revolutionize everything from manufacturing to social governance in the world's second-largest economy.
In the letter read by Shanghai Party Secretary Li Qiang at the 2018 World Artificial Intelligence Conference, Xi said the new generation of AI is booming on a global scale, and it requires deepened cooperation and joint discussions among nations to deal with new AI subjects like law, security, employment, ethics and governance.
Xi envisioned the development and application of AI as greatly enhancing the level of economic and social development and improving public services and urban management.
Xi's remarks were echoed by Vice-Premier Liu He, who called for investment in AI research and cross-border collaboration to collectively address the complex ethical and legal questions raised by the technology.
"We will encourage 'zero to one' original research … and beef up efforts to defend intellectual property protection in the IP-intensive sector," Liu said at the opening ceremony. "Zero to one" refers to creating something new and taking it to the first step.
Liu also proposed creating a more favorable environment for related private sector and small and medium-sized enterprises, which comprise an important pillar of the thriving industry.
The country accounted for 48 percent of the world's total AI startup funding last year, consultancy CBInsights said.
Chinese technology powerhouses — including Alibaba, Tencent, Baidu and iFlytek — have delved into specific fields using AI, including smart city administration, medical diagnosis, autonomous driving and voice recognition.
"Smart technologies will penetrate into every aspect of society in the coming three decades," said Jack Ma, chairman of Alibaba, a company that uses AI to predict customer needs and rejuvenate offline shopping, among other endeavors.
The proliferation of data — with more people generating far more information in China than in any other country — is the fuel for improving AI, according to Kai-Fu Lee, founder and CEO of Sinovation Ventures.
The conference also has witnessed the formation of an AI-themed academic alliance bringing together world-class universities like the Massachusetts Institute of Technology and China's Tsinghua University.
"The move is part of the push to close China's top-notch AI talent gap in order to fulfill its AI supremacy," said Tang Xiao'ou, founder of SenseTime and professor at the Chinese University of Hong Kong.