Peaks of influence
Share - WeChat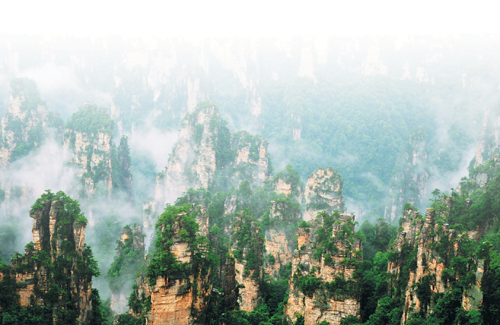 "The account managers know all the quality content," says Yu Xuesong, who's in charge of government affairs at Kuaishou Technology.
"And we can identify and solve problems through tourists' comments."
It also allows tourism-product providers to build trust with potential visitors through social-media interaction, he adds.
Meanwhile, Kuaishou recently launched a program to select and train 100 users in the countryside to create and share short films over the next three years. The idea is that others will, in turn, learn from them and facilitate poverty alleviation. Several will come from Zhangjiajie's tourism industry.
"Guides like Zhou use Kuaishou because of its advantages-messages spread quickly on the platform," says Ou Yaohui, an official with Zhangjiajie's tourism bureau.
"Short videos are popular among Chinese youth, a demographic we are keen to target. Our extreme-sports clips, such as wingsuit flying and bungee jumping, are popular on the app."
Contact the writer at xulin@chinadaily.com.cn