US library creates legacy with Chinese Garden expansion
Share - WeChat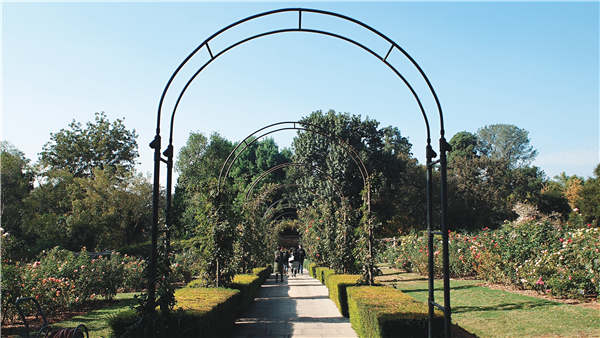 Under wispy willows beside a rippling, rock-rimmed lake, VIPs gathered on last Tuesday at one of the decorative pagodas that dot the landscape at the historic Huntington Library, Art Collections, and Botanical Gardens in Los Angeles County to participate in a "Golden Shovel" groundbreaking ceremony to launch the Phase 2 expansion of their Chinese "Garden of Flowing Fragrances (Liu Fang Yuan)".
"Today marks another major milestone in our collective journey, as this next phase will triple the size of the Chinese Gardens at the Huntington," Steve Hindle, interim president of the institution, informed the attentive crowd.
In attendance at the special ceremony were Huntington trustees and donors, Library officials, and American and Chinese dignitaries.
Hindle said the Phase 2 expansion, designed by China's Suzhou Institute for Landscape Architecture and Design, would include an art studio and gallery to display Asian paintings and calligraphy; a new larger cafe with outdoor seating; and a streamside pavilion with scenic views; a courtyard of miniature landscapes; an improved "Court of Assembled Worthies"; and a Chinese medicinal garden.
Two of the major donors, Joseph and Helen Koo, told Xinhua, "We saw the plans for the Garden and they still needed an Orchid Pavilion."
"My husband loves orchids, so we found ourselves getting involved. Then more involved. And more involved," laughed Ms Helen Koo.
There will also be a stargazing tower pavilion with a scenic view of the Mt Wilson Observatory and a bigger event space for larger gatherings that could generate significant revenue for the Huntington as a special event venue.
"Community support has been incredible," Sian Leong Adams, a valued member of the donor relations team, told Xinhua. "We truly couldn't have done any of this without the unflagging support of our generous donors."