A fine feast
Share - WeChat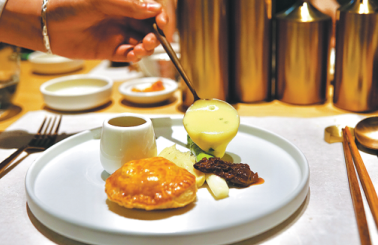 Three acclaimed chefs are teaming up to bring a whole new vegetarian concept to Beijing's culinary landscape, Li Yingxue reports.
Having worked in the kitchen for 26 years, Yang Jie has decided to embark on a new adventure-the 44-year-old has teamed up with two other chefs to create a "vegetarian concept restaurant" in Beijing.
Located at Wanda Plaza, the newly opened restaurant-named Feast-offers a highend interpretation of vegetarian dining that seeks to create a balance of taste, temperature and rhythm throughout the meal.
Besides Yang, who is an expert in traditional cuisine, Feast is also the brainchild of renowned vegetarian chef, Zhao Bin, and Western cuisine specialist, Liu Peng.
"We all have cooked for more than two decades, and this time we want to do something different," says Yang.
Most Popular