Tourism to mainland holds steady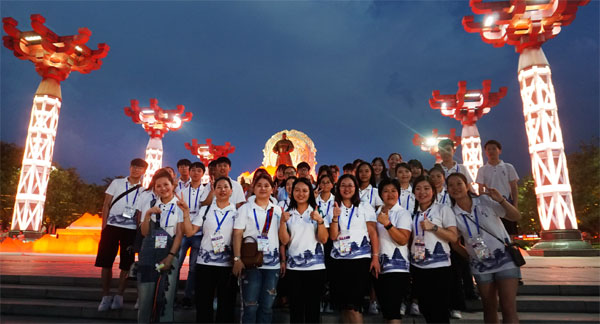 Visits by people from Hong Kong fall by nearly 3 percent, but spending is up
Visits to the Chinese mainland remained steady in the first half of 2018, showing only a slight year-on-year decline of 0.4 percent, according to a report released by the China Tourism Academy on Wednesday.
Nearly 70 million visits were made to the Chinese mainland over the past six months, but visits by travelers from Hong Kong - about 39 million - dropped nearly 3 percent.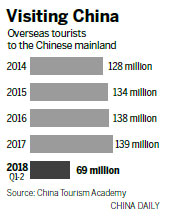 "The drop in visits by Hong Kong residents influenced the inbound tourism market in the past half year," said Dai Bin, chairman of the academy.
But the market has been in an upturn in the past few years, as visits to the Chinese mainland saw a rise of 0.8 percent year-on-year in 2017, he said.
Revenue generated by inbound tourism, however, saw a rise of 2.8 percent over the past six months compared with the same period in 2017, reaching $61.8 billion, according to the report.
"We remain positive toward the inbound tourism market as foreigners and residents from Hong Kong, Macao and Taiwan spend more money during their visits," Dai said.
Cang Feifei, deputy general manager at Huangshan Haijing International Travel Agency, headquartered in Huangshan, Anhui province, said the agency has processed about 9,000 visitors, with most of them coming from Japan, Malaysia and Canada so far this year.
"Visitors from Japan have boomed since last year," she said. "We usually receive hundreds of Japanese visitors a year, but we've received more than 6,000 Japanese travelers since September."
She is convinced the inbound tourism market has a promising future.
"Infrastructure is improving at domestic attractions, and agencies are offering more and better services than before. The rich traditional culture and marvelous landscape on the Chinese mainland are also attractive to travelers," she said.
Myanmar, Vietnam, South Korea, Japan and the United States were the top five source countries for visitors to the Chinese mainland in the first six months of 2018.
"We hope that more preferential policies will be released - on visas, for example - to help drive inbound tourism for business visits, study exchanges and culture-oriented tours," Dai said.