Biker's photos reveal life along the Belt and Road
Share - WeChat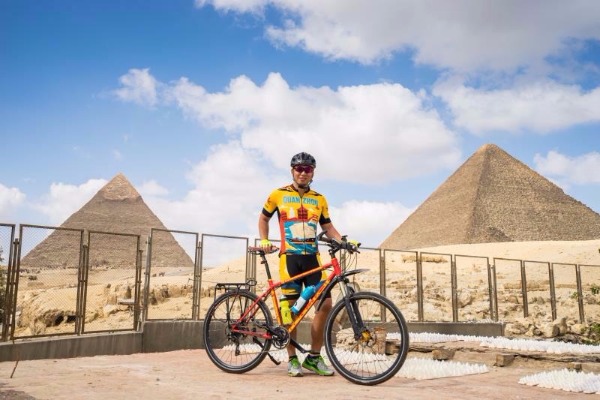 A photo exhibition touring dozens of Chinese cities is revealing the discoveries Liu Haixiang made during his 615-day journey cycling through 15 countries along the Silk Road.
The native of Fujian province's Quanzhou, the ancient trade route's starting point, has organized the shows to promote awareness of the Belt and Road Initiative and the realities of the countries involved.
President Xi Jinping proposed the initiative to build the Silk Road Economic Belt and the 21st Century Maritime Silk Road to expand international cooperation in 2013.
"The Belt and Road will bring China closer to the rest of the world. So, mutual understanding is necessary," Liu says.
He considers his journeys on two wheels as a "folksy way to understand the initiative".
Liu started at the Vatican and traveled through such countries as Greece and Egypt until he reached South China's Guangxi Zhuang autonomous region. From there, he traveled throughout China, ending his journey in Taipei.
He says he was surprised by how little the people he met in other countries understood about China.
"They still think of Chinese people as kung fu masters," Liu says.
"They don't understand China's rapid development. So, they don't understand contemporary Chinese society."
That said, he also came to realize how little he, in turn, knew about the countries before he visited.
For instance, images of affluence and terrorism shaped his expectations of Saudi Arabia before he arrived there. But he came to better understand the nation's enviable welfare and strong religious traditions during his visit.
The Saudi king is supportive of the Chinese Muslims who make pilgrimages to the country. Liu's hometown hosts many residents of Arab descent, he says.
The cyclist says the people he met were hospitable.
Local Saudis gave him money and food as he was crossing a 1,500-kilometer stretch of desert. The police offered to drive him to the nearest gas station to rest.
"Traveling by bike offers a more comprehensive, objective and approachable view of the world," Liu says.
The show features 43 photos and such items as Liu's diaries that captured the cultures and histories of the countries he visited.
Exhibitions have been held in nine cities and will be staged in 20 more. The show will head to Hubei's provincial capital, Wuhan; Shandong's provincial capital, Jinan; and Guizhou province's Zunyi city this year.
Indeed, Liu's photos provide a clearer picture of life in the countries involved in the Belt and Road at a time when enhanced mutual understanding is more important than ever.