Taiwan white-tip tea takes root in Fujian
Cross-Straits dream comes true in ancestral home after grandfather's tribulations with tropical fruit orchard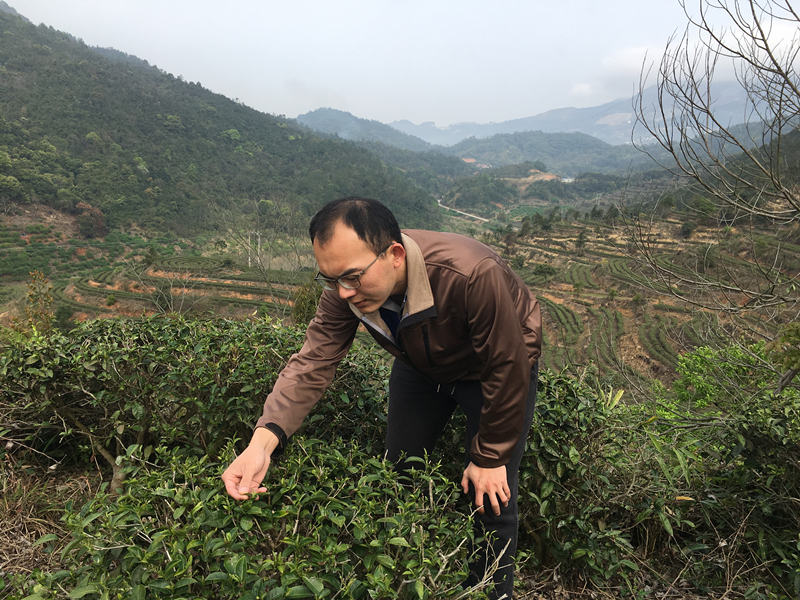 Tseng Kuan-ying, a 30-year-old from Taiwan, helps his father grow tea in their ancestral home county on the Chinese mainland, building on the broken dreams of his grandfather.
In the 1990s, when Tseng's grandfather, a farmer in Taiwan, was weighing up investment in Southeast Asian countries or the mainland, where land and labor were cheaper, he chose Fujian province at the urging of Tseng's father.
"After visiting southern Fujian, my father thought there were good prospects, and the climate there was similar to Taiwan," Tseng said.
"It is also the place our family originated, which gave rise to a nostalgic feeling."
In 1997, his grandfather started a 40-hectare tropical fruit orchard in Changtai county, Zhangzhou, the part of Fujian the family's ancestors had left 20 generations before - in the early days of the Qing Dynasty (1644-1911) - to make a new life in Taiwan.
However, fortune did not favor his grandfather's venture. Two severe frosts, in 1999 and 2001, killed the mango and guava trees he had introduced from Taiwan, and he later decided to return to the island, putting the sadness behind him.
"The double failure was a major blow to my grandfather, an experienced fruit grower in Taiwan," Tseng said. "He ignored the difference between continental and island climates. Changtai is a little bit colder than Taiwan, so it couldn't sustain Taiwan's tropical fruits."
In 2004, Tseng's father - 40 at the time and a car dealer in Taiwan - took over the failed orchard and decided to try a different approach, hoping to stand up where his own father had fallen.
An agricultural layman, he invited specialists from Taiwan to carefully study the area, and they discovered it would be perfect for growing tea.
In the next four years, Tseng's father devoted himself to transforming the orchard into a tea garden. Experts guided the process, and his tea seeds, processing equipment and techniques were all brought from Taiwan.
"My father named his tea garden Tiao Cha," Tseng said. "The word tiao means to blend or mix, and cha means tea. The name contains my father's dream about tea - to balance the flavor of the two sides."
Although southern Fujian and Taiwan have a similar oolong tea culture, they have developed their own characteristics. Tseng said the island's flavor is heavier, and his father wanted to introduce that flavor to the mainland.