Restaurants at home are facing digital battle
Share - WeChat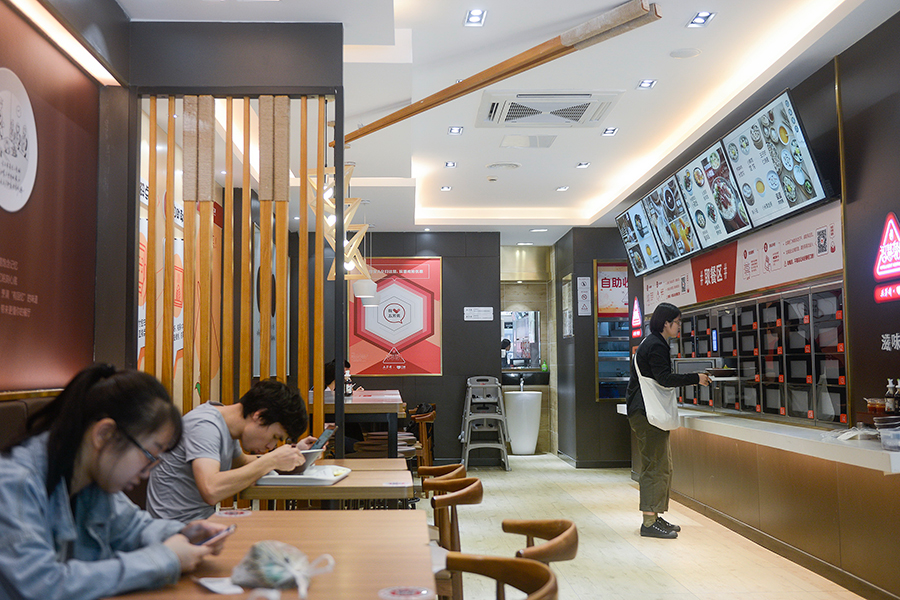 Mobile payments and big data tech underpin revamp of the old-school catering services

The catering industry doesn't seem like a partner for big data as decisions are traditionally made by experienced chefs and restaurant owners.
But the fact that everybody consumes food means it generates a huge amount of data. Where some saw an odd coupling, Wu Daxing saw an opportunity.

Wu oversees Wufangzhai, an upscale brand with 97 years of history making zongzi-a traditional festival cuisine of glutinous rice dumplings wrapped in bamboo leaves.

In the past two years, the long-acclaimed food chain had faced mounting pressure due to ebbing customer traffic offset by the e-commerce frenzy as well as a changing demographic that the traditional brand failed to impress.

"Who are our top and bottom servers and why do food costs go up?" Wu asked. When he got blank stares and wrong answers from his fellow store chiefs, he realized the need and urgency to leverage data for precise management.

Wu's case is typical in the country's 4 trillion yuan ($583 billion) catering market in 2017, according to a report by consultancy iResearch. Surging rents, personnel as well as supply chain management caused one out of every 10 restaurants to shut down last year in China's top-tier cities such as Beijing, Shanghai, Shenzhen and Guangzhou.

By teaming up with Koubei, a local services platform that runs troves of consumer data, Wufangzhai is riding the digitalization wave, introducing electronic billboards, quick response code payments and a suite of virtual coupons sent to people's phones based on their likes and locations.

The opening of an unmanned outlet in Hangzhou, capital of East China's Zhejiang province, marks Wufangzhai's latest venture into technology-powered retail. Customers can order meals through self-service machines or scanning in-store QR codes via their smartphones, and take their meals from cupboards at the restaurant.

Buoyed by customized dish recommendations using Koubei's data analytics, the store reported a 40 percent increase in turnover just one month after it debuted in January, Wu said.

Encouraged by the early success, Koubei announced plans at its annual catering summit in July to digitally transform 1 million restaurants by introducing pre-order services, self-help ordering kiosks, and a number of data analytics capabilities that track customer preferences.

Data has a lot to offer when it comes to revamping old-school catering services. China has nearly 750 million mobile internet users who now treat paying with phones a default way of life, according to the China Internet Network Information Center.

Mobile payment providers such as Alipay and WeChat Pay handled 775 billion transactions last year, data from market researcher Ipsos showed. That sheer volume indicated that the catering industry is in a good position to take advantage of the same big data services as financial firms and marketing departments to better understand their consumers, increase efficiency and even create new recipes to try.

Internet companies found themselves in a good position to upend the traditional dining business, as they are well-stocked with information about consumers' browsing histories, purchasing preferences and credit records.

Therefore, China's tech giants Alibaba Group Holding Ltd and Tencent Holdings Ltd have wasted little time in placing their chips on data analysis, with Alibaba incubating Koubei and Tencent backing Meituan-Dianping in their fight for supremacy on the catering front.

"Today, online consumption only makes up for 15 percent of the total dining expenses. The majority of food consumption still lies in actual restaurants," said Zhang Chuan, senior deputy president of Meituan-Dianping, an on-demand service provider that encompasses food delivery and restaurant reviews functions.

Recognizing such demands, Meituan-Dianping is leveraging its ecosystem both online, where customers can search nearby restaurants, order food delivery and book a restaurant, and offline, where users queue up, order food and pay through the company's cashier system.

"The systems generate a data pool, gathering customer behavior that covers dine-in, dine-out, group-buying, booking and payment, which in turn helps restaurants better understand what customers need so as to improve sales," Zhang said.

"We cannot succeed by running a business on intuition alone. It will be more valuable if the data is massive in scale and delivered in real-time," said Zhao Xiaowei, a management official of Songzi, a chain restaurant of Japanese cuisine, which has a wide presence in Meituan-Dianping's platforms.

For instance, the likes of Zhao now see real-time the consuming habits of customers in different business trading areas from Meituan-Dianping's data pool. Such statistics help business owners choose restaurant locations and adjust the categorization and pricing of dishes.

How to pinpoint, attract and retain picky diners among the variety of dining choices has been a longtime malaise plaguing the industry. Now data analysis can quench every customer's appetite and thirst through tailor-made meals.

According to Koubei CEO Fan Chi, the platform enabled its merchants to provide consumers with customized deals based on their purchasing preferences and average in-store spending. For example, the system halves the price of a dish that a customer frequently orders as an incentive.

"By providing the most relevant discounts, it helps to draw more recurring customers and get them 'hooked'," Fan said.

"QR code ordering and payment is the real game-changer, as it generates enormous amounts of data for us to assess, depict and record customer behavior," said Wang Wei, chief marketing officer of United States fast food chain Burger King in China. "It is cost and time-saving, freeing up service attendants from receiving payment and giving change … so that they can focus on in-store service."

Personalized marketing also helps restaurants topple geographical constraints, said Huang Chao, sales director of Xiaolongkan, a Beijing-based hotpot chain.

"A traditional restaurant or grocery store typically draws in customers within a radius of three to five kilometers, but with the aid of data analytics, prospective diners might drive through the city to try out a novel dish just because they have received a red packet with a coupon," he said.

Another reason for deploying data in China can find its roots in the evolving habits of young Chinese consumers, according to a report released by Boston Consulting Group.

Research has shown that unlike their Western counterparts who have a more straightforward search-and-buy approach, Chinese consumers have a penchant for exploring during the shopping process and value online peer reviews.

Lu Chuanxi, marketing director of Dairy Queen in China, a US ice cream brand, said that through Meituan-Dianping's integrated platform, customers can give feedback online after dining, which has helped the company improve its products and services.

Benefiting from such advantages, Dairy Queen is sharing its member system with Meituan. Members who consume through Meituan's platform can also enjoy the same discounts and coupons as members of Dairy Queen.