Red Tourism opens new path for poverty-stricken areas in Jiangxi
Share - WeChat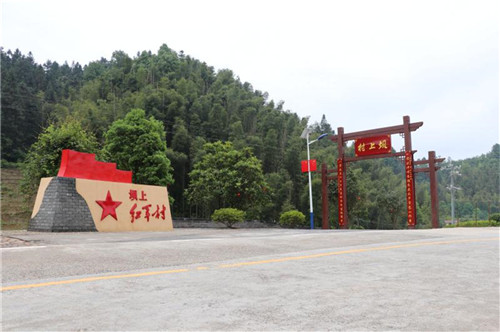 After visiting a historical site in Jinggangshan, East China's Jiangxi province, where Chairman Mao Zedong used to live during China's red revolution, many tourists choose to stay overnight in nearby farmers' homes.
From 1927 to 1929, Mao lived and worked there as along with many senior leaders of Chinese Red Army, the armed forces of the Communist Party from 1928 to 1937 and the predecessor of the People's Liberation Army.
The mountainous Jianggangshan is known as the "cradle of China's revolution", the home to the first revolution base founded by the Communist Party of China.
The homestay and catering service has raised the farmers' income, as Red Tourism, the subset of tourism in which tourists visit the sites with historical significance to the revolution led by the Communist Party from 1921 to 1949, grows in popularity.
According to a China Daily report, the number of tourists visiting Red Tourism sites almost tripled in the first half of 2017, as compared with the same period in 2016.
To provide quality service, the 25 farmers' houses in Maoping Township have been redesigned and redecorated by the local government.
"The business is good these days," said the village head on July 18. "Some tourists pay the booking fee one month before they check in. The average occupancy rate is 65 percent over the year."
In the past, many of those farmers lived only on planting rice or working as migrant workers, some of whom were registered poverty-stricken residents. According to a local official, the homestay service has raised their average income by 50,000 yuan ($7,399) a year.
In another village of Jinggangshan, local government invested over 5 million yuan in 2013 to launch a program for tourists to experience "a day of Red Army". Tourists wear the blue uniform of Chinese Red Army, cook the meal that soldiers used to eat, listen to Red Army stories and even play war game.
Villagers earn money by providing food and accommodation service. In 2017, the program had attracted over 40,000 tourists and generated more than 20,000 yuan for each of the 52 families involved.
Local government helps decorate their houses and sets service standard. Registered poor families would enjoy preferential policies such as subsidy for rice-growing and healthcare insurance.
Wu Yunyue, a registered poor farmer whose husband died of heart disease years ago, began to provide catering service in 2013. In 2017, she welcomed more than 1,000 tourists and earned over 10,000 yuan.
Her life got better thanks to the program. Before 2013, she could hardly make ends meet by planting rice and raising pigs and earning as little as 17 yuan per day.
But it is not an easy job. Every day, the 61-year-old Wu must get up as early as 5:30 am and spend half day preparing lunch for tourists.
According to official data, in 2017, the number of tourists to Jinggangshan grew 13.23 percent year-on-year, with the yearly tourism income of 13.9 billion yuan, up from 6.8 billion in 2013.
Poverty figures in Jinggangshan reduced from 13.8 percent in 2013 to 0.42 percent in 2017. The average disposable income of each rural resident has risen to 9,606 yuan.
In Jiangxi province, which is home to a big number of Red Tourism sites, the income generated by Red Tourism was 115.7 billion yuan in 2016. The provincial government expects to see its income to reach 250 billion yuan.