Veteran Hong Kong pop star finally ready to show L.O.V.E.
Share - WeChat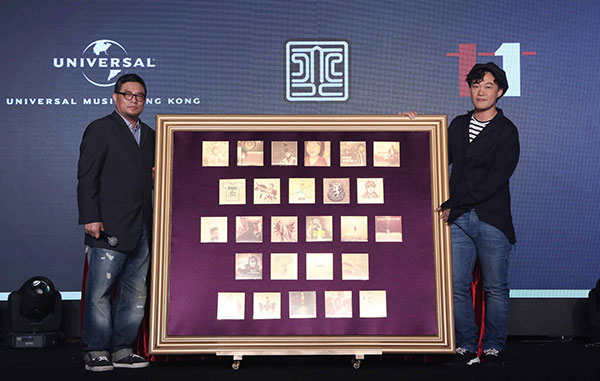 When the numbers appeared on the screen above the stage, Eason Chan Yik-shun covered his mouth with his hands, a look of disbelief etched on his face.
Since his career started in 1995, the Hong Kong pop singer has released 89 records - sales of which have totaled in excess of 20 million copies - performed more than 300 solo concerts in over 80 cities worldwide, and received 170 awards for Best Male Singer, including three prestigious Golden Melody Awards.
He has also launched his own music label, EAS Music, and one of the first artists he signed was Hong Kong singer-songwriter and producer, Eric Wai-leung, who also writes songs for other Cantonese pop stars, including Chan himself.
"I was so shocked when I saw the numbers," Chan said at a press conference in Hong Kong last week. "I never realized that I had done so much in my career.
"I've been in the music industry for a long time, but I didn't realize how popular I had become until I saw fans at my concerts. They give me instant feedback there," he observed.
"However, when I return home, I am just the same person my childhood friends knew. I am not a star."
This year, Chan is gong to release a new album, entitled L.O.V.E., that was originally slated for release back in 2013, but it was sidelined when he began to suffer from depression.
Prior to that, between 2010 to 2012, Chan was touring the world, including his second visit to London, where he played the massive O2 Arena - making him the first Asian artist to perform at the venue.
Most Popular