Chongqing making fast tracks to Europe
Share - WeChat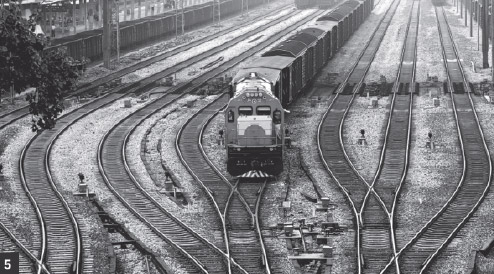 Another logistics facility is the Chongqing Lianglu-Cuntan Free Trade Port Area, the only bonded port area in West China.
It has been operating since 2008 and is one of only 14 such areas in the country.
Goods entering the bonded port are considered not to have entered China until they leave, when they are subject to normal customs clearance. Both Chongqing Liangbei Airport and Cuntan Port are within the bonded zone, home to six of the top 10 logistics companies in the world.
"It is very important for Chongqing to have its own bonded zone. We produce a lot of cars and laptops here and if all these have to go through Shanghai or Shenzhen it becomes very expensive for manufacturers," said Qu Huang, deputy general manager of the free trade port area.
One of the exciting aspects of Chongqing's new connectivity is being able to link Europe to Southeast Asia by rail.
One of the key organizations is the China-Singapore (Chongqing) Demonstration Initiative on Strategic Connectivity, also known as the Chongqing Connectivity Initiative.
It is the third major intergovernmental initiative formed between China and Singapore. The other two are the China-Singapore Suzhou Industrial Park, which was launched in 1994 and seen as vital in China's early industrial development, and the Sino-Singapore Tianjin Ecocity.
The Chongqing Connectivity Initiative was launched in November 2015 by President Xi and Singapore's Prime Minister Lee Hsien Loong. The aim is to develop cooperation in financial services, aviation logistics, transportation and communications, and information technology.
Speaking at his offices in Chongqing's Jiangbeizui financial district, Han Baochang, the initiative's director-general, believes there is a real opportunity to build connections between Europe and Singapore.
"Chongqing has a real opportunity to elevate its status into a hub for international and logistics," he said.
He cites the example of Vietnam, a manufacturer of high-end sport shoes, which could acquire high-quality plastics from Europe.
"The raw materials can come by rail from Europe to Chongqing and then go through the Southern Transport Corridor to Vietnam. The end product can then be sold across ASEAN (Association of Southeast Asian Nations) countries, or Europe, going back by the same route."
Tse, at Gao Feng Advisory, believes there is a bigger picture to forming greater links between Europe and China.
"There is a danger of seeing this just in terms of rail links. It all becomes a little bit technical if that is the case. It ignores the fact that China now has this overarching view emboldened by Xi Jinping's concept of building a "community of common destiny for mankind". This is not just Europe and China working together, but also countries in Africa, Central Asia, Southeast Asia and elsewhere, too."
Hu Yongqi contributed to this story.