'South' can lead way forward for world
After landing in bustling Johannesburg, South Africa, on Monday night, I realized with a thrill that I was setting foot south of the equator for the first time.
Frankly, my understanding of the country stems mostly from the epic story of its late president Nelson Mandela, its hosting of soccer's World Cup eight years ago, reading some media stories and a chat with the taxi driver on my way to the hotel.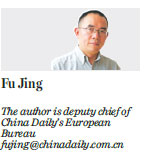 Geographically, South Africa is quite a long haul from China. But in terms of the world's economic geography, we are close, and one common characteristic is that we are both part of the "Global South" as developing economies.
That is why, before my departure, I was looking forward to the South Africa trip to cover my newspaper's Vision China event on Tuesday, with the theme of "BRICS and Globalization".
That is also why I felt at home upon arrival.
Writing at the hotel, I thought about the rapidly evolving global situation. In a few days, the leaders of the BRICS countries - Brazil, Russia, India, China and South Africa - will be gathering here to coordinate their stances on economic development and global governance.
This will be happening after President Xi Jinping met European Union leaders in Beijing, the EU-Japan summit, the NATO summit, United States President Donald Trump's visit to the United Kingdom and his meeting with Russian President Vladimir Putin - and a raft of other summits in the past month.
Similar political encounters are likely to be even more frequent in the coming months, mainly because the Trump administration's unilateralism and isolationism have been disrupting the balance of power in the world.
The Trump administration doesn't only target countries in the "South", but also its developed allies in the "North". This is the geopolitical reality - possibly the toughest situation since the Cold War - that the countries of the "South", led by the BRICS, must face.
The countermeasures, therefore, should be well prepared to cushion the frequent market shocks likely to be brought about by global uncertainties.
But it is not frightening, and courage and vision are vital. The world nowadays is highly integrated, with daily cross-border flows of capital, information, personnel, technology, trade and other elements of production. No country can afford to see a lose-lose scenario caused by total isolation and excessive trade bullying.
So, coming to the negotiating table is the only acceptable solution. To achieve that more quickly, the countries of the "South" could exercise their political influence in the same direction. Moreover, the BRICS countries should coordinate their stances, agreeing not to impose any protectionist measures and to boost free trade and market liberalization.
That is what the BRICS spirit means, and it could lead those in the "South" to follow, compromise and flourish.
The author is deputy chief of China Daily's European Bureau