Meet Doreen Hynd, 92, tai chi chuan master
Share - WeChat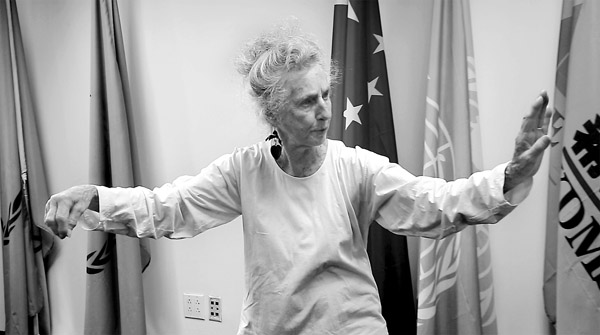 Balance is a word that you'll hear often from Doreen Hynd, a 92-year-old tai chi chuan master who has taught the martial art for almost 30 years both in the US and Canada.
"Balance is everything. We all want to live as human beings with very fine balance in our emotions and how we present ourselves to the world," Hynd said in an interview with China Daily last month when discussing the benefits of practicing tai chi chuan, an externally soft but internally hard Chinese martial art practiced both for self-defense and health benefits.
On the 9th United Nations Chinese Language Day, held on April 20 every year, Hynd was bestowed with a special honor for her outstanding achievement in promoting tai chi culture.
"Tai chi has withstood the test of time for several centuries in Chinese culture. It brings about an awareness of breath and calmness and invites the body, mind and inner consciousness to work together for an experience of lightness and strength," Hynd said.
Born in Australia in 1925, Hynd began her tai chi chuan training in the 1980s at Sydney University. In 1984, Hynd moved to the United States and sought out Sophia Delza, who had spent many years in China studying under the famous tai chi chuan grandmaster Ma Yueh Liang - Ma was the senior disciple of Wu Jianquan, the founder of Wu-style tai chi chuan.
After Delza passed away in 1996, Hynd, by then Delza's teaching assistant, carried on Delza's mission of promoting tai chi culture and taught at places such as the United Nations, Carnegie Hall and the State University of New York.
"A lot of the classes that I am teaching are for retired people, and it was one of the most inspiring things in my life," Hynd said.
During her 24 years of teaching the art, miracles have happened, she said. Hynd recalled that one of her students who had suffered serious brain damage started to recover memories after practicing tai chi chuan with her, even though doctors said it was "impossible".
Most Popular