Notorious emperor was vilified, series claims
Share - WeChat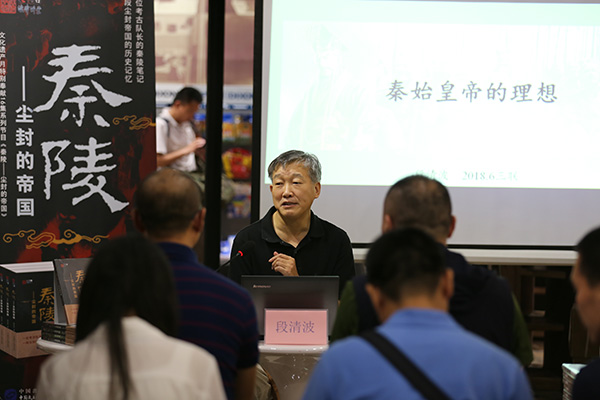 Was emperor Qin Shihuang a villain or a hero? Or something-or someone-in between?
The man who united China under centralized rule and was interred with the Terracotta Warriors is largely known for his brutality, autocracy, opulence and lust for power.
But archaeologist Duan Qingbo, who led the excavation of his mausoleum, says there's much more to the Qin Dynasty's (221-206 BC) founder in his new book and upcoming TV series.
"Qin Shihuang is a great emperor in Chinese history. He had extraordinary ideals and passion," the professor said at the recent launch of his new book, Qin Mausoleum: A Dust-Laden Empire, in Beijing.
The book uses historical research to elaborate on Qin Shihuang's legacy. It explores some of the discoveries from his mausoleum to reveal a more complex side to his character.
Duan led the excavation team for a decade.
This, in turn, led him to believe the emperor has largely been "demonized".
The mausoleum's opulence resembles the palace of the Qin's imperial capital of Xianyang, which lies outside today's Xi'an in Shaanxi province.
Duan believes this indicates the emperor hoped to continue his ambitions to build the nation in the afterlife.
"The tomb suggests more than posthumous lavishness. It embodies his aspirations to unify China after his passing," he says.
Qin Shihuang was known for large-scale constructions, such as the Epang Palace.
"Epang was never finished. Only a rammed-soil foundation was completed. So, it's a myth that the palace was luxuriant," Duan says.
Most Popular